MWC events for the 13th of February
7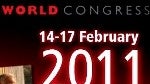 https://www.phonearena.com/We are sending troops on the ground floor at the Mobile World Congress, which is officially kicking off on the 14th of February . A number of cell phone companies, however, are holding pre-MWC events on the 13th, which are actually pretty major.
We have split our team since they overlap, and will be present on Sunday at both important gatherings then - of Sony Ericsson and Samsung:


Sony Ericsson
- 6pm-10pm CET / 12 noon - 4pm EST / 11am-3pm CT / 9am-1pm PST
Here we expect to see the announcement of the Sony Ericsson Xperia Play and the Sony Ericsson Xperia Neo.
Samsung
- 6pm-7pm CET / 12 noon - 1pm EST / 11am - 12 noon CT / 9am-10am PST
In the same timeframe we have Samsung, which we will be following first and foremost for the Samsung Galaxy S 2 and the Samsung Galaxy Tab 2 details.
We'll be your eyes and ears at these events on Sunday, so stay tuned to PhoneArena for first-hand news and hands-on reports.