MWC 2014 technology breakthroughs: processors, memory and connectivity
27

Mobile World Congress, the
world's largest mobile show
, is over, and it's time for a recap. While you all know about the big guns - devices like the
Samsung Galaxy S5
and the
Sony Xperia Z2
- you might not have heard about the no less important technological breakthroughs that make devices like these possible and chart the way for the future.
We are talking about the likes of the Snapdragon 801 system-on-chip (SoC) by Qualcomm, the part that acts as the driving engine of innovation powering the Galaxy S5 and Xperia Z2; components like SanDisk's first 128GB microSD card that is now supported on phones like the S5; stuff like the new Qualcomm RF360 that allows for more efficient battery use, and so much more.
For all these technological breakthroughs that will shape the way our smartphones and tablets look in the future, take a look below.
1. Processors
The Snapdragon 801 is Qualcomm's new top-shelf system chip, designed for cutting edge devices like the Samsung Galaxy S5 and Sony Xperia Z2. It's a gradual improvement over the popular Snapdragon 800 found in most top smartphones nowadays, and it features the same Krait 400 processor, Adreno 330 graphics and ISP, but what's changed is the frequencies - clocks are higher for both the CPU and the GPU. It's important to note that it actually comes in two variations, the MSM8974AB and MSM8974AC, with both being identical except for a slightly higher clock for the CPU and GPU in the AC one.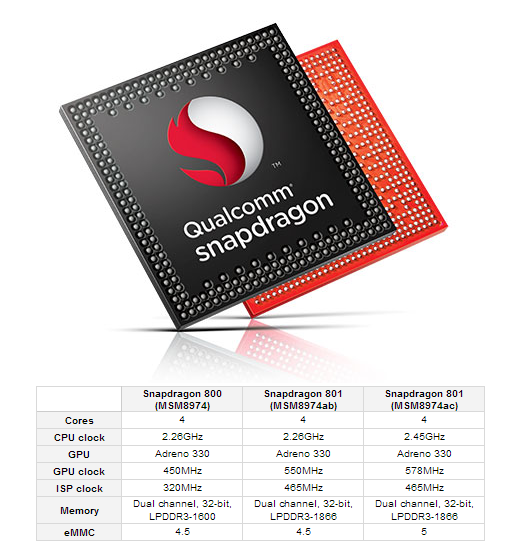 Qualcomm unveiled two new 64-bit system chips based on the Cortex A53 core (with the ARMv8 instruction set), and both will ship in mid-range devices. The first of them, the Snapdragon 615, is Qualcomm's first octa-core chip, featuring 8 Cortex A53 cores, and it's made specifically for the Chinese market. Four of the cores will be set to work at lower frequencies for battery efficiency, and the other four will be clocked higher for demanding workloads. The goal is to have just one set of cores active at a time to achieve some savings in power draw, but for the most demanding tasks you'd also be able to run all 8 cores at the same time.
The second 64-bit chip that Qualcomm unveiled at MWC was the Snapdragon 610, which is identical to the 615, except for the fact that it features just four cores. Interestingly, the octa-core model is aimed at the Chinese market where more cores are considered an influential sales factor, while the quad-core one is made for the international market.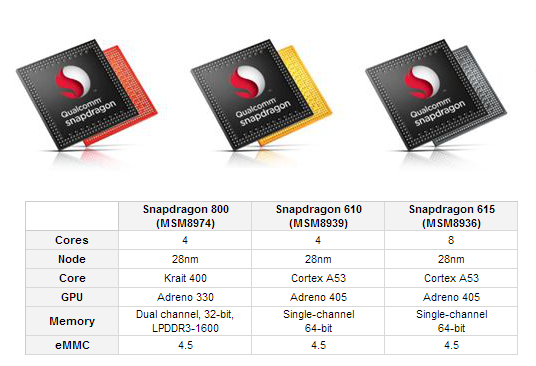 ARM has tried to popularize the big.LITTLE setup for system chips for quite a while, but it was not until the Samsung Exynos 5 Hexa that we are finally seeing a nearly perfect, textbook implementation of it. A combination of two high-performance Cortex A15 cores (big) clocked at up to 1.7GHz, and four power-efficient Cortex A7 cores (LITTLE) running at up to 1.3GHz, the Exynos 5 Hexa should show off all the benefits of the big.LITTLE architecture, and we're looking forward to testing it.
Samsung also unveiled its new Exynos 5422 octa-core chip at Mobile World Congress. It pairs 4 Cortex A15 cores with 4 Cortex A7 cores, but that's not what makes it unique. The real highlight is that both the A7 and the A15 are turbo-clocked much higher than usual, at 1.5GHz for the A7 and 2.1GHz for the A15. The end result is likely to be a chip with swooping benchmark performance, but also with huge power efficiency compromises. With this in mind, we do expect it to arrive first and foremost in larger devices like tablets and phablets that can cool it off easier.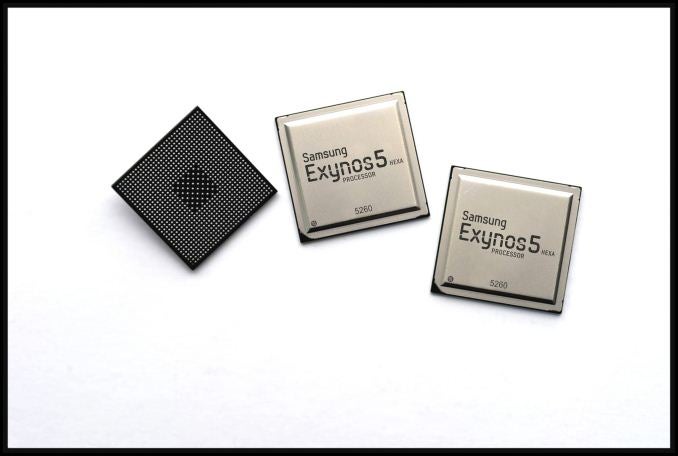 Audience MQ100
Audience unveiled its new series of voice processors at CES (such chips make the "always-on" voice features possible), and now, at MWC, it is unveiling a new motion co-processor aimed at fitness tracking and indoor navigation. The product is called Audience MQ100, and its big benefit is that it consumes multiple times less power than other integrated solutions. Motion processors started getting in the highlight when Apple unveiled its iPhone 5s with an M7 motion processor, working alongside the main Apple A7 chip. The MQ100 has a similar function - it facilitates fitness and health tracking, as it is specifically optimized to read input from the accelerometer and other integrated sensors.
Imagination Technologies is the companies that is best known for making the graphics chips of Apple devices, and it was obviously not happy after Nvidia stole all the press thunder at CES with its Tegra K1. Hence, Imagination decided it will reveal details of its new GX6650, a GPU that the company considers to be on par with the K1. The crux of the issue here is that Nvidia touted the 192 shader cores (or graphics cores) of the Tegra K1, and this sheer number made for some catchy (yet often misleading) headlines, while the PowerVR chip got much less attention from the press. By opening up about it, Imagination wants to stress the fact that the PowerVR GX6650 is by no means less capable, and it actually matches that 192 shader number. The images below give us a glimpse of the GX6650, and show clearly that it's performance is in the same league as the Tegra K1. Good news is that - if Apple is as aggressive this year as it's been with graphics updates so far - we would not be surprised to see the GX6650 in the new iPad.
Intel unveils its mobile roadmap for 2014, unveils XMM7260 4G LTE modem
Qualcomm has pretty much established a near-monopoly on smartphone chips thanks to its strong, integrated solutions with 4G LTE modems on die. To fight that, Intel is unveiling a new Category 6 multi-mode LTE modem, the XMM7260. This modem is an important step for Intel, as the company is hoping to convince many phone makers to choose its hardware platform rather than Qualcomm's.
With it, Intel is now ready to ship the Merrifield and Moorefield generations of chips, coming in the second half of the year. Both are 22nm Silvermont-based SoCs with the first being a dual-core implementation, and the second - a quad-core one.
That is not all for Intel, though. Late in the year, the company is planning an even more aggressive moving towards 14nm chips. The first chip based on the new die will be Cherry Trail SoC based on an Intel Airmont core. The big story about Cherry Trail, though, is not limited to just the shrunken manufacturing node - the chip will also bring hugely improved graphics to mobile.
Looking at Intel's roadmap for the year as a whole, we can conclude that Chipzilla has now shifted its entire mobile portfolio to 64-bit. While Android is still a 32-bit platform, changes are clearly in the way, and Intel has its silicon ready.
2. Memory
Apart from a few recent devices like the Samsung Galaxy Note 3 and Moto X, memory performance has been a huge bottleneck in smartphone performance. The root of the problem lies in the fact that manufacturers see internal storage as a way to save some money, and they ship devices with low-cost cards that are optimized for sequential operations (like copying a whole movie), but not for random ops (like the kind of work that an operating system like Android does).
SanDisk addresses this issue head-on with its iNAND Extreme, a new eMMC 5.0 solution capable of up to 300MB/s IO performance. Essentially, this is an MLC NAND card with a separate CPU for NAND management, and another one for operations (a two-CPU design similar to the one in desktop and notebook SSDs of a few years ago). If this solution is adopted in mobile devices, we are likely to see some drastic improvements in IO performance.
3. Connectivity
The Qualcomm RF360 is a connectivity component that sits before the radio transceiver in a smartphone, and it consists of an envelope power tracker, an antenna tuner, power amp and an RF PoP. All of these parts bring different benefits, but the one that received most publicity is the QFE1100 power tracker. This part enables sizable improvements in the battery life of devices like the Galaxy Note 3 and Nexus 5. Other parts of the RF360 like the antenna matching tuner have also been used in devices like the Lumia 1520 to improve its connectivity.
The good news from MWC 2014, however, is that Qualcomm's RF360 will arrive to smartphones in its entirety in 2014. Qualcomm has already announced a partnership with ZTE, but we expect many more phone makers to use this chip.
Broadcom's BCM4354 brings 2x2 MIMO antennas and Rezence wireless charging
The benefit of a chip like Broadcom's BCM4354 with its 2x2 MIMO antennas is huge for those suffering from poor reception. Along with this, the chip also integrates 802.11ac Wi-Fi connectivity, Bluetooth 4.1, and the new A4WS wireless charging standard. The BCM4354 is already available and should ship in smartphones soon.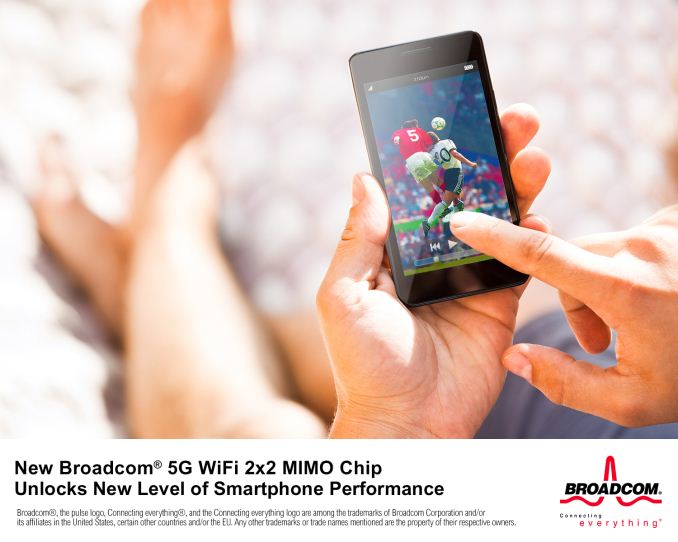 Wil6300 chipset is world's first 802.11ad 'WiGig' chipset for smartphones
The Wil6300 chip comes with the promise to bring peak speeds of up to 4.6Gbps over an 802.11ad wireless network. Unlike most of the aforementioned products, though, it is not expected to arrive this year - instead you'd have to wait until 2015 to see it in devices. Those huge gains in Wi-Fi speeds come with some limitations, though. The chip has a very limited range, especially in locations where there are walls, but for those seeking maximum download speeds, it might be a great solution.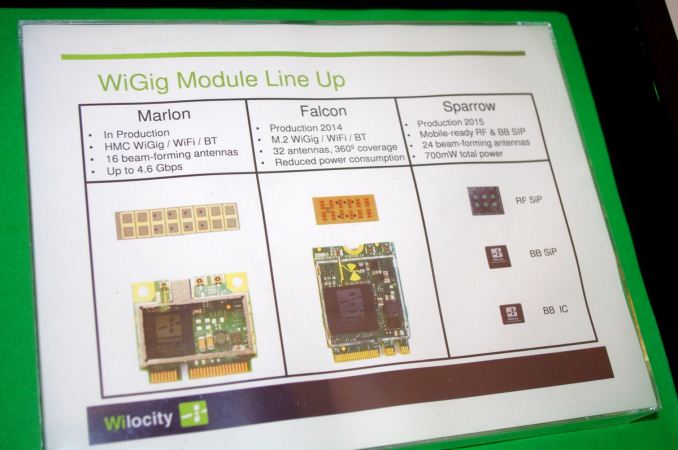 reference:
AnandTech