Qualcomm introduces first global LTE chip, the RF360
6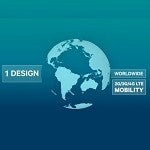 The RF360 is Qualcomm's front end solution to address the complexities manufacturers face when developing hardware for the world market.
LTE frequency bands are all over the place, from one country to the next. That keeps manufacturers on their toes when working on their latest and greatest. Even Apple's iPhone 5 has three different versions to accommodate the 40 different LTE bands around the world.
Qualcomm Technologies, the business unit that developed this handy design, claims to have broken through the fragmentation and has a single system level solution which can provide connectivity on 2G, 3G, and 4G across all standards, FDD-LTE, TDD-LTE, WCDMA, EV-DO, CDMA, TD-CDMA, GSM,
EDGE
.
The front end solution obviously means that there will be more space available for manufactures to push the thinness envelope even further, plus this solution will be combined with Qualcomm Snapdragon chip-sets. There are a number of technical components that make the solution possible, and the details are in the press-release below, but they are nicely summarized in the video below.
The best part is that we will not be waiting long to see this technology make an appearance in our smartphones, the RF360 will launch in the second half of this year. Given Qualcomm's propensity for a licensed business model, we can expect this technology proliferate quickly.
sources:
Qualcomm
via
Engadget
Qualcomm RF360 Front End Solution Enables Single, Global LTE Design for Next-Generation Mobile Devices
New WTR1625L and RF Front End Chips Harness Radio Frequency Band Proliferation, Enable OEMs to Develop Thinner, More Power-Efficient Devices with Worldwide 4G LTE Mobility

SAN DIEGO – February 21, 2013 – Qualcomm Incorporated (NASDAQ: QCOM) today announced that its wholly-owned subsidiary, Qualcomm Technologies, Inc., introduced the Qualcomm RF360 Front End Solution, a comprehensive, system-level solution that addresses cellular radio frequency band fragmentation and enables for the first time a single, global 4G LTE design for mobile devices. Band fragmentation is the biggest obstacle to designing today's global LTE devices, with 40 cellular radio bands worldwide. The Qualcomm RF front end solution comprises a family of chips designed to mitigate this problem while improving RF performance and helping OEMs more easily develop multiband, multimode mobile devices supporting all seven cellular modes, including LTE-FDD, LTE-TDD, WCDMA, EV-DO, CDMA 1x, TD-SCDMA and GSM/EDGE. The RF front end solution includes the industry's first envelope power tracker for 3G/4G LTE mobile devices, a dynamic antenna matching tuner, an integrated power amplifier-antenna switch, and an innovative 3D-RF packaging solution incorporating key front end components. The Qualcomm RF360 solution is designed to work seamlessly, reduce power consumption and improve radio performance while reducing the RF front end footprint inside of a smartphone by up to 50 percent compared to the current generation of devices. Additionally, the solution reduces design complexity and development costs, allowing OEM customers to develop new multiband, multimode LTE products faster and more efficiently. By combining the new RF front end chipsets with Qualcomm Snapdragon all-in-one mobile processors and Gobi™ LTE modems, Qualcomm Technologies can supply OEMs with a comprehensive, optimized, system-level LTE solution that is truly global.

As mobile broadband technologies evolve, OEMs need to support 2G, 3G, 4G LTE and LTE Advanced technologies in the same device in order to provide the best possible data and voice experience to consumers no matter where they are.

"The wide range of radio frequencies used to implement 2G, 3G and 4G LTE networks globally presents an ongoing challenge for mobile device designers. Where 2G and 3G technologies each have been implemented on four to five different RF bands globally, the inclusion of LTE brings the total number of cellular bands to approximately 40," said Alex Katouzian, senior vice president of product management, Qualcomm Technologies, Inc. "Our new RF devices are tightly integrated and will allow us the flexibility and scalability to supply OEMs of all types, from those requiring only a region-specific LTE solution, to those needing LTE global roaming support."

The Qualcomm RF360 front end solution also represents a significant technological advancement in overall radio performance and design, and it comprises the following components:
Dynamic Antenna Matching Tuner (QFE15xx) – The world's first modem-assisted and configurable antenna-matching technology extends antenna range to operate over 2G/3G/4G LTE frequency bands, from 700-2700 MHz. This, in conjunction with modem control and sensor input, dynamically improves the antenna's performance and connection reliability in the presence of physical signal impediments, like the user's hand.
Envelope Power Tracker (QFE11xx) – The industry's first modem-assisted envelope tracking technology designed for 3G/4G LTE mobile devices, this chip is designed to reduce overall thermal footprint and RF power consumption by up to 30 percent, depending on the mode of operation. By reducing power and heat dissipation, it enables OEMs to design thinner smartphones with longer battery life.
Integrated Power Amplifier / Antenna Switch (QFE23xx) – The industry's first chip featuring an integrated CMOS power amplifier (PA) and antenna switch with multiband support across 2G, 3G and 4G LTE cellular modes. This innovative solution provides unprecedented functionality in a single component, with smaller PCB area, simplified routing and one of the smallest PA/antenna switch footprints in the industry.
RF POP™ (QFE27xx) – The industry's first 3D RF packaging solution, integrates the QFE23xx multimode, multiband power amplifier and antenna switch, with all the associated SAW filters and duplexers in a single package. Designed to be easily interchangeable, the QFE27xx allows OEMs to change the substrate configuration to support global and/or region-specific frequency band combinations. The QFE27xx RF POP enables a highly integrated multiband, multimode, single-package RF front end solution that is truly global.

OEM products featuring the complete Qualcomm RF360 Solution are anticipated to be launched in the second half of 2013.

Qualcomm also announced today a new RF transceiver chip, the WTR1625L. The chip is the first in the industry to support carrier aggregation with a significant expansion in the number of active RF bands. The WTR1625L can accommodate all cellular modes and 2G, 3G and 4G/LTE frequency bands and band combinations that are either deployed or in commercial planning globally. Additionally, it has an integrated, high-performance GPS core that also supports GLONASS and Beidou systems. The WTR1625L is tightly integrated in a wafer scale package and optimized for efficiency, offering 20 percent power savings compared to previous generations. The new transceiver, along with the Qualcomm RF360 front end chips, is integral to Qualcomm Technologies Inc.'s single-SKU World Mode LTE solution for mobile devices that are expected to launch in 2013.

About Qualcomm

Qualcomm Incorporated (NASDAQ: QCOM) is the world leader in 3G, 4G and next-generation wireless technologies. Qualcomm Incorporated includes Qualcomm's licensing business, QTL, and the vast majority of its patent portfolio. Qualcomm Technologies, Inc., a wholly-owned subsidiary of Qualcomm Incorporated, operates, along with its subsidiaries, substantially all of Qualcomm's engineering, research and development functions, and substantially all of its products and services businesses, including its semiconductor business, QCT. For more than 25 years, Qualcomm ideas and inventions have driven the evolution of digital communications, linking people everywhere more closely to information, entertainment and each other. For more information, visit Qualcomm's website, OnQ blog, Twitter and Facebook pages

Except for the historical information contained herein, this news release contains forward-looking statements that are subject to risks and uncertainties, including Qualcomm Technologies' ability to successfully design and have manufactured significant quantities of Qualcomm RF360 Front End components on a timely and profitable basis, the extent and speed to which the Qualcomm RF360 Front End components are deployed, change in economic conditions of the various ecosystems that Qualcomm Technologies' serves, as well as the other risks detailed from time to time in Qualcomm Incorporated's SEC reports, including the report on Form 10-K for the year ended September 25, 2012, and most recent Form 10-Q. Qualcomm Incorporated and Qualcomm Technologies undertakes no obligation to update, or continue to provide information with respect to, any forward-looking statement or risk factor, whether as a result of new information, future events or otherwise.

###