Imagination Technologies unveils PowerVR Series6XT GPUs, promises 50% performance gains
17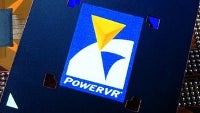 Imagination Technologies (IT) has unveiled its newest PowerVR graphics chip architectures and GPUs at CES 2014. Today's announcement is of the Power VR Series 6XT
"Rogue"
graphics chips that are available for licensing right away, and build up on the legacy of the Series 6.
Imagination Technologies's PowerVR Series 6XT comprises of the new GX6240, GX6250 (dual-cluster), GX6450 (4-cluster) and GX6650 (6-cluster) with only the GX6240 being area optimized, and all others - optimized for performance. Imagination Technologies uses "clusters" instead of cores in its graphics chips to refer to the fact that each cluster does not fully replicate all hardware, but only shader ALUs and texture hardware.
IT also promises an up to 50% gain in performance with the new chips, and better power efficiency coming from finer-tuned power gating. The Series 6XT chips all support DirectX 10, OpenGL ES 3.0, and OpenCL 1.x, so basically the API support is left unchanged.
Overall, the changes IT brings to Series 6XT are incremental rather than being an overhaul of the architecture. While the company does not provide any low-level details, Series 6XT seems likely to feature the same Unified Shading Cluster (USC) fundamental architecture with a 16-wide scalar design capable of chewing through up to 4 FP32 operations per clock.
The big highlight is on efficiency with a new
"PowerGearing G6XT"
technology that offers even finer power gating so individual processes or even USCs can be shut down without having the GPU go idle. That's particularly useful in casual light-stress loads.
Notably, having announced the first three Series 6XT cores, Imagination Technologies also claims it's reached the best performance in both GFLOPS/mm2 and GFLOPS/mW in the field. The new chips also bring the new "PVR3C" compression technology, an umbrella term for various supported compressions. Particularly interesting is the support for Adaptive Scalable Texture Compression (ASTC) that is announced nearly simultaneously on PowerVR chips and
Nvidia's Tegra K1
.
"Imagination, which our research shows is already the volume leader in mobile GPU, is expanding on its Rogue graphics family with the new high performance Series6XT architecture featuring innovative power management and compression technologies,"
Jon Peddie Research president summed up.
Imagination Technology, the British company best known for supplying the GPUs for Apple products like the iPhone 5s and iPad Air, has opened licensing for the new chips, but don't expect to see them just yet. Judging by the 2-year gap between the announcement and device launch, we should expect to see the Series 6XT chips around late 2015.

Imagination's new generation PowerVR Series6XT architecture delivers up to 50% higher performance and advanced power management
Announcing first three IP cores in Series6XT family
Dramatic performance improvements for sophisticated graphics and GPU compute
PowerGearing™ G6XT power management
PVR3C™ triple compression technologies
UltraHD deep color GPU
Design Optimization Kits (DOKs)
INTERNATIONAL CES, LAS VEGAS, Nev. – 6 January, 2014 – Imagination Technologies (IMG.L) unveils the next generation of its highly successful PowerVR Rogue graphics processing (GPU) architecture that drives performance to new levels while reducing power consumption even further through advanced PowerGearing mechanisms. The new PowerVR Series6XT Rogue architecture builds on the groundbreaking Series6 architecture that consumes the lowest memory bandwidth in the industry while delivering the best performance per mm2 and per mW.
The Series6XT architecture features market-leading scalability, supporting implementations up to eight compute clusters that scale linearly in GFLOPS and texturing rates. With OpenGL ES 3.0* support across the range, Series6XT provides among the highest performance OpenGL ES 3.0 GPUs in the industry. Today Imagination unveiled the first three cores in the Series6XT generation with two, four and six compute clusters respectively.
The Series6XT architecture targets a wide range of markets from wearables, mobile devices and tablets to automotive infotainment to high-end gaming and computing and more. Series6XT also adds performance enhancements to support the extended color gamut of 4K/UltraHD TV.
Says Tony King-Smith, EVP marketing, Imagination: "With PowerVR Series6XT we are making the Rogue architecture even more efficient by adding new features and delivering new levels of GPU performance. As we continue to increase the speed of innovation for our market-leading GPU offerings, we're continuing to pull away from the competition and our customers are benefiting from having access to the latest technologies."
Says Jon Peddie, president, Jon Peddie Research: "Imagination, which our research shows is already the volume leader in mobile GPU, is expanding on its Rogue graphics family with the new high performance Series6XT architecture featuring innovative power management and compression technologies. The promised performance and scalability of Series6XT are what's needed for the next generation of mobile and embedded devices, as consumers want an ever increasing level of graphics experience across all of their devices."
Dramatic performance improvements
Members of the Series6XT family are designed to offer processing performance that scales to the TFLOPS range. Application developers can take advantage of the significant parallel processing power in Series6XT GPUs for both graphics and GPU compute tasks.
Series6XT cores achieve up to a 50% performance increase on the latest industry standard benchmarks compared to equivalent configurations of previous generation cores. And with a significant increase in raw GFLOPS, Series6XT delivers the industry's best performance in both GFLOPS/mm2 and GFLOPS/mW. Series6XT architectural enhancements include:
A streamlined instruction set which results in improved application performance and increased GPU efficiency
The next generation of Imagination's Hierarchical Scheduling Technology (HST) which leads to higher resource utilization
Sustained polygon throughput and pixel fillrate improvements that lead to more responsive and fluid graphics performance
GPU compute data path optimizations for higher parallel processing performance
PowerGearing G6XT advanced power management
PowerVR's unique Tile Based Deferred Rendering (TBDR) architecture is the world's most efficient, and Series6XT extends that lead with a range of sophisticated power management features that deliver class-leading power efficiency.
Imagination's enhanced PowerGearing G6XT power management mechanisms lead to sustained performance within fixed power and thermal envelopes by enabling fine-grained control of all GPU resources and allowing dynamic, demand-based scheduling of shading clusters and other processing blocks. The ability to responsively route power to only the required resources enables the Series6XT Rogue architecture to deliver proven best-in-class low-power performance.
PVR3C triple compression: even more power and performance advantages
Series6XT features PVR3C triple compression system-level optimizations of the compute and graphics bandwidth flow that further increase the performance and power benefits. PVR3C combines lossy texture compression (Imagination's PVRTC and Khronos' ASTC), second generation lossless image compression (PVRIC2) and lossless geometry compression (PVRGC).
Series6XT features Imagination's PVRTC and PVRTC2, the most used and lowest power texture compression formats in the market, and adds full ASTC support.
PVRIC2 outperforms the competition with dramatically improved throughput, reduced bandwidth, conserved power and improved system performance.
PVRGC reduces overall bandwidth usage and related system costs as the geometry complexity, especially in today's gaming environments, continues to increase.
Software and tools support
Imagination provides developers with free access to the PowerVR Graphics SDK, a cross-platform toolkit designed to support all aspects of 3D graphics application development. Developers can join the PowerVR Insider community, download the SDK for free and interact with the community of 45,000+ members through developer forums at www.powervrinsider.com.
Availability
Initial PowerVR Series6XT IP cores have been delivered to lead partners, and are available for general licensing now. The first PowerVR Series6XT cores, the GX6250, GX6450 and GX6650, have two, four and six compute clusters respectively. An area-optimized two cluster implementation, the GX6240, is also available.
Initial physical Design Optimization Kits (DOKs) for Imagination's PowerVR Series6XT IP cores are now also available, offering customers the flexibility to optimize for power, performance and area (PPA). Imagination DOKs are comprised of optimized reference design flows, tuned libraries from partners, characterisation data and documentation. Contact info@imgtec.com for more information.
About PowerVR Graphics
Imagination's PowerVR graphics technologies are the de facto standard for mobile and embedded graphics. The PowerVR Rogue architecture is designed to support the features of the latest graphics APIs including OpenGL ES 3.x*/2/1.1, OpenGL 3.x/4.x, and designed for full WHQL-compliant DirectX 9/10, with certain family members extending their capabilities to DirectX 11.1 functionality. PowerVR Rogue GPUs deliver full support for all popular and emerging GPU compute APIs including OpenCL 1.x and Renderscript, delivering an optimal balance of performance versus power consumption for mobile and embedded devices.
Editor's Note
* PowerVR Series6XT Rogue cores are based on a published Khronos specification, and are expected to pass the Khronos Conformance Testing Process. Previous generation Rogue cores have already achieved conformance. Current conformance status can be found at www.khronos.org/conformance.
About Imagination Technologies
Imagination Technologies - a global leader in multimedia, processor, communication and cloud technologies - creates and licenses market-leading processor solutions including graphics, video, vision, CPU and embedded processing, multi-standard communications, cross-platform V.VoIP and VoLTE and cloud connectivity. These silicon and software intellectual property (IP) solutions for systems-on-chip (SoC) are complemented by an extensive portfolio of software, tools and ecosystems. Target markets include mobile phone, connected home consumer, mobile and tablet computing, in-car electronics, networking, telecoms, health, smart energy and connected sensors. Imagination's licensees include many of the world's leading semiconductor manufacturers, network operators and OEM/ODMs. Corporate headquarters are located in the United Kingdom, with sales and R&D offices worldwide. See: www.imgtec.com.
- See more at: http://www.imgtec.com/News/Release/index.asp?NewsID=821#sthash.tnz0f2kz.dpuf