Lumia surpasses DROID on Google search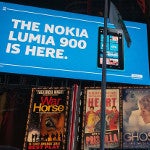 The other day, Verizon paid to use the word "Lumia" as a keyword on some Twitter ads. That was a good move by the carrier because "Lumia" has recently become a more popular keyword on Google than "DROID". Does this foreshadow a major change in the mobile industry? According to Google Trends, since February
there have been more requests to search for "Lumia" than there have been requests to search for "DROID
". This comes despite Verizon's recent focus on the Motorola DROID RAZR and Motorola DROID RAZR MAXX handsets.
Nokia has done a fair bit of advertising itself
. Android also continues
to own a nice big chunk of the smartphone market
while Microsoft's mobile OS still has a single-digit market share. The big goal for the Finnish based manufacturer is to somehow convert these search requests into actual purchases. And of course, Android started out with a low marketshare and it wasn't until the Motorola DROID launched that Androidmania began.
The popularity of "Lumia" as a search term bears further watching. If the Nokia Lumia becomes that turning point device the way that the Motorola DROID was for Android, we should see the gap between "Lumia" and "DROID" widen out over the next couple of week. You never know when the staus quo is about to change. Back in February 2010, we reported on comScore's December 2009 survey of U.S. smartphone marketshare and it showed
Android fifth out of five operating systems with a measly 5.2% share
. That more than doubled September 2009's 2.5% rate,
giving us a hint of thing to come from Android
. Who is to say that Google Trends isn't giving us a similar hint about Windows Phone?
source:
WMPoweruser