Lumia 950 and 950 XL camera details emerge: Better pixel processing, enhanced OIS and more
46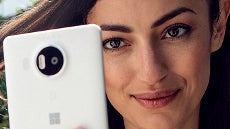 The new Microsoft
Lumia 950
range is packed to the rafters with
exciting features
. A line-up of many firsts as far as Redmond's mobile ventures are concerned, we finally have a pair of Windows handsets that can mix it with the big boys. So keen was Microsoft to showcase the notable aspects of the
Lumia 950
and
950 XL
during the announcement, that the company scarcely discussed the camera features of these two new smartphones. The higher-end Lumias have always delivered stellar point-and-shoot experiences, with the
Lumia 1020
's 41-megapixel lens still lauded by mobile photographers. For those eager to learn of what else is in store for the camera of the Lumia 950 and its larger brother, Microsoft's Juha Alakarhu has shared a few details via Twitter.
Alakarhu is Head of Imaging Technology for the Lumia Windows smartphones, and has dispelled some of the intrigue surrounding the 20-megapixel snapper of the Lumia 950 and Lumia 950 XL. During the grand unveiling, Microsoft did confirm that the main camera is capable of 4K video, which is fast becoming the norm among top-tier handsets. But photo geeks will surely be enthused by some of the other tech. specs of the PureView shooter.
With both devices, you get 5th-gen optical image stabilization (OIS), which should make for more refined, crisper snaps and less jittery video. The camera also boasts RGB flash and natural pixel processing. Here's a full list of the details shared by Alakarhu:
ISO12800
F1.9
5th-gen OIS
Natural pixel processing
RGB flash
Content-aware exposure times
Next-gen dynamic exposure: Two exposure times in the same image. Short for moving and long for static part in Rich capture.
Microsoft will apparently be sharing some sample images taken with the devices very soon. It's a little surprising that the company hasn't already released a bunch of photos, particularly since mobile photography enthusiasts will have been waiting keenly for the Lumia 950 announcement.
Still, we fully expect the eventual results to be impressive, and if you're keen to learn more about these two new devices, be sure to peep our
Lumia 950
/
Lumia 950 XL
hands-on coverage.