Low in-cell touch panel yields spell trouble for the iPhone 5, Apple throws money at the problem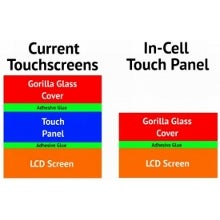 In-cell touch panels
are a great thing - they allow for thinner devices and improve backlight penetration for brighter displays, that's why Apple is going with them for the
iPhone 5
. If you can make enough of those, that is.
After
TPK losing its touch panel orders from Apple
because of its inability to produce an in-cell panel with the required quality and quantity, now the blessed
Japan Display
(joint-venture of Sony, Hitachi and Toshiba), LG Display and Sharp, are having troubles with the new technology. They were only estimated to produce 4-5 million in-cell displays in July, while Apple has booked 20-25 million for the third quarter, in order to fill the initial iPhone 5 demand.
The issues are not with the technology per se, but rather with producing enough yield to warrant the expensive manufacturing process. Japan Display is supposedly the one with the highest yield rates, and they barely touch the 50% mark, supply chain sources say. LGD, which initially was said to be improving its rates to 70-80%, is now allegedly unable to scale those into mass production, while
Sharp hasn't even budged from the very low yield it managed to achieve in the first place
.
Apple has reportedly put Sharp under probation, and will evaluate its production methods and results from scratch, while it is said
to subsidize each panel from the others with $10-$15
to make it worth their while. These subsidies are, of course, peanuts for Apple, compared to what it will make on each iPhone 5 handset sold, but they will still raise production costs a bit. Couple that with the more expensive manufacturing each gadget with a brand new design would entail for Apple, compared to previous models at the end of their cycle, and the margin on the next iPhone might very well be slightly less than usual.