Living with the Samsung Galaxy S6, week 1: The cool embrace of metal-on-glass
64
This article may contain personal views and opinion from the author.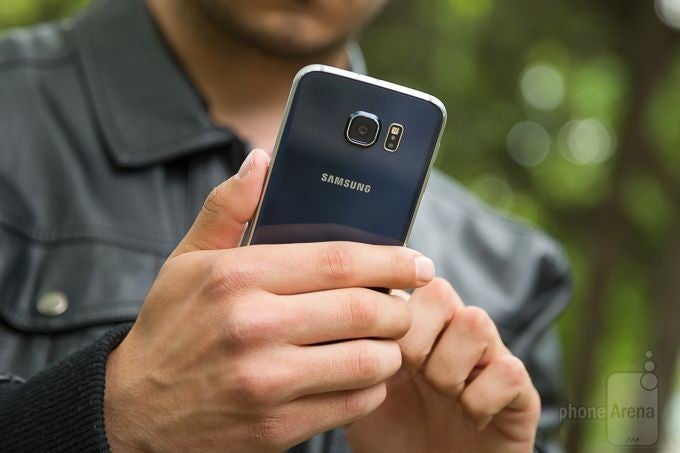 While I certainly wasn't the first person outside of Samsung to put his hands on the new Galaxy S6, I did get the opportunity to check it out in person immediately after its Unpacked 2015 event on the 1st of March — over a month before it hit the shelves worldwide. Somehow, I managed to stay at the helm of the stampede to the show floor, and just like that — I was now looking directly at what is likely to go down in history as one of Samsung's more ambitious projects to date.
Yeah, Samsung had a lot to prove. Sales were slumping, consumers were complaining, and it had something of an image problem that its main rival (and, ironically enough, business partner) Apple didn't. In fact, Apple was reaping crazy profits. While some of us may ridicule Samsung and play up other, up-and-coming manufacturers, the fact is that the South Korean behemoth remains the only real Android challenger as far as the iPhones are concerned. Again — Samsung had
a lot
to prove, and to an audience that some will agree is more demanding and has far fewer reasons to stick with the team.
Bespoke design, a more lightweight user interface, a camera combo that was up to speed with the times, and enough new hardware to excite the specs-hungry Android crowd. With that, Samsung would have a chance to deter naysayers that thought it weak and a victim of its own success, show its ability to innovate even when the stakes are highest, and cement its spot as Android's paragon. Not a trivial list, even when your market cap is measured in the hundreds of billions and you're the most vertically integrated phone maker out there. And yet, it seems like Samsung knocked each of these points off the list.
The cool embrace of metal-on-glass
When you're in a position where you can look up and see no other branches above you — like Samsung is — you usually make for a great target for critics and consumers alike. Relentlessly, unmercifully, you're expected to deliver. On each and every occasion, and on each and every front. No clemency. Being top dog ain't easy.
For a while now, though, my opinion has been that the patient needed the bitter medicine. Not only has the company managed to seriously dilute the brand value of its Galaxy line — it containing dozens upon dozens of marginally different products — but it also underestimated our desire to wield devices that were computing powerhouses as much as they were fashion statements. To me, Samsung design never was an exciting topic, for its devices were often very plain-looking and utilitarian. That can be an advantage, of course, but given how capable even entry level devices are nowadays, it's only natural that diminishing returns in that area kicked in, and I and many others started attributing less value to ever faster chipsets and memory. Design is no longer a secondary or tertiary consideration.
Judging by the Galaxy S6, Samsung has definitely discovered that about us, and has delivered its most impressive design to date. Not only does the S6 feature a more impressive set of materials (metal and glass) for its extremely thin construction, it actually
feels
like an item that you want to take good care of, and one that you like fondling. Unfortunately, those two sheets of Gorilla Glass 4 protecting the front and back are magnets for fingerprints, but the rear piece is definitely the more problematic. The reasons for that are two.
First off, thanks to a nano-coating process that Samsung excitedly discussed during the Galaxy S6's unveiling, the rear actually glows in subtly different hues depending on the angle that light falls on it from. Furthermore, there's a depth that can be perceived under the glass, which definitely makes it easier to spot fingerprints and various smudges. And secondly, some of the color options simply fail to mask residual oils as well as the Black Sapphire model I've got handy. That's a good enough reason for me to steer away from the other options, save for maybe the white.
In any case, the glassy exterior of the Galaxy S6 complements the aluminum frame and power and volume buttons very well. A grade 6013 alloy, we're talking about aluminum of even higher quality than the one used with the newest iPhones (grade 6063) — lightweight and durable enough that it also happens to be a part of planes, cars, yachts, mountain bikes, and many other. According to Samsung, it's 1.5 times stronger than 6063, and 1.2 times more resistant to scratches.
Thinness is not all about compromises
While I definitely won't go as far as to claim that thinness is a useless metric — a slender device usually feels more luxurious than a bulky one, all things being equal — it's nevertheless a design decision that me and the rest of the PhoneArena team sometimes have a hard time justifying. Why? Because the trade-offs can be pretty steep.
Samsung shaved off 0.05 inches (1.3 mm) when transitioning from the Galaxy S5 to the Galaxy S6. That's a substantial reduction, and one that meant that the company had to settle for a smaller battery and a protruding camera on the back. And while thinness doesn't necessarily help with ergonomics, I have to say that, so long as you pick up a protective case with the S6, you'll be thankful for it. In fact, even without it, the Galaxy S6 is a comfortable device to hold and operate.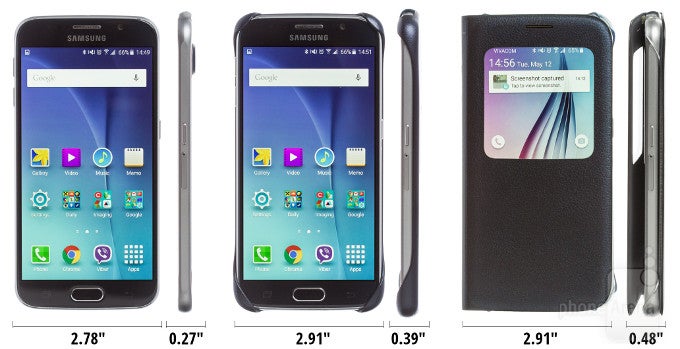 According to a 2014 poll I published
, most of you
will
nevertheless cover the S6, despite Samsung's claims that its smartphone is anything but a glass canon. That's where its slim profile comes in handy, as the chart above shows. A gain of of 0.12 to 0.21 inches is easy to stomach when the material integrity of your flashy new Galaxy S6 is on the line.
Part of the club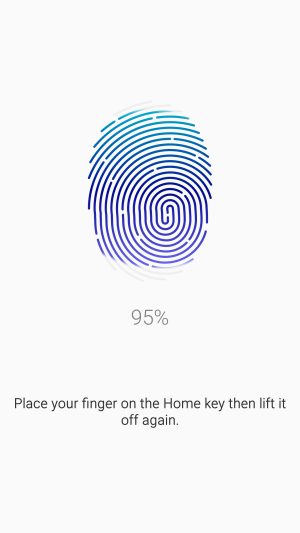 While fingerprint scanners on smartphones is nothing really new, it wasn't until Apple released the iPhone 5s with Touch ID that the industry as a whole felt it simply
had
to jump on the bandwagon. What followed was a barrage of Android devices that touted a scanner of some type, and the list of manufacturers now includes the likes of HTC, Huawei, Meizu, Oppo, various other Chinese makers, and of course, Samsung!
Indeed, starting with the Galaxy S5, Samsung also entered the club, though we'd argue that it was limited to the bike room at first. That's because its swipe-type scanners simply weren't good enough for everyday use, unless you were incredibly patient and forgiving. Sure, subsequent software updates did make things a little better, but the end result was still unsatisfactory for a flagship device. The issue was also compounded by the fact that you had to, somehow, manage a perfectly aimed swipe over the physical Home button (which doubles up as a scanner), making for some truly awkward movements. I'm honestly jubilant in saying that these days are behind us for good.
With the Galaxy S6, Samsung has finally moved to a touch-type scanner, and it works splendidly. Not only am I not required to perform a perfectly precise and awfully awkward swipe up anymore, I also no longer have to worry that I'll inevitably drop the phone whilst going for my 5th, likely unsuccessful, attempt. I've been using the fingerprint scanner since day one with the Galaxy S6, and I've been tremendously happy with it — especially since I am finally used to waking up the device with the Home button, and not the power key on the side.
But the sensor's application isn't limited to simply unlocking the device. You can use it to authenticate PayPal transactions and even to log into websites where you're registered and wouldn't want anyone making use of your account. At least as long as you're sticking with the default Samsung browser. Third-party apps, such as LastPass, can also make use of the scanner.
Best of both worlds: Samsung's new approach to display design


Samsung continues to be at the forefront of display technology, and it proved that with the Galaxy S6 edge. Not only is the sloping display of the Galaxy S6's cousin a remarkable feat of engineering, it's also one of the most color-accurate panels on the market. As you can imagine, the same is also true of the S6.
For years, however, Samsung's Super AMOLED displays have been a controversial topic to say the least. While they've always commanded a legion of supporters, it was hard arguing against hard data, which indicated some pretty significant inaccuracies in terms of color reproduction — usually of the overblown, extremely saturated type. But colors that 'pop' have been
very
effective in drawing consumers to Samsung devices, so the company has been resisting change for a long time. That time is now finally over, but instead of compromising on either aspects, the handset maker had a different, and quite ingenious idea.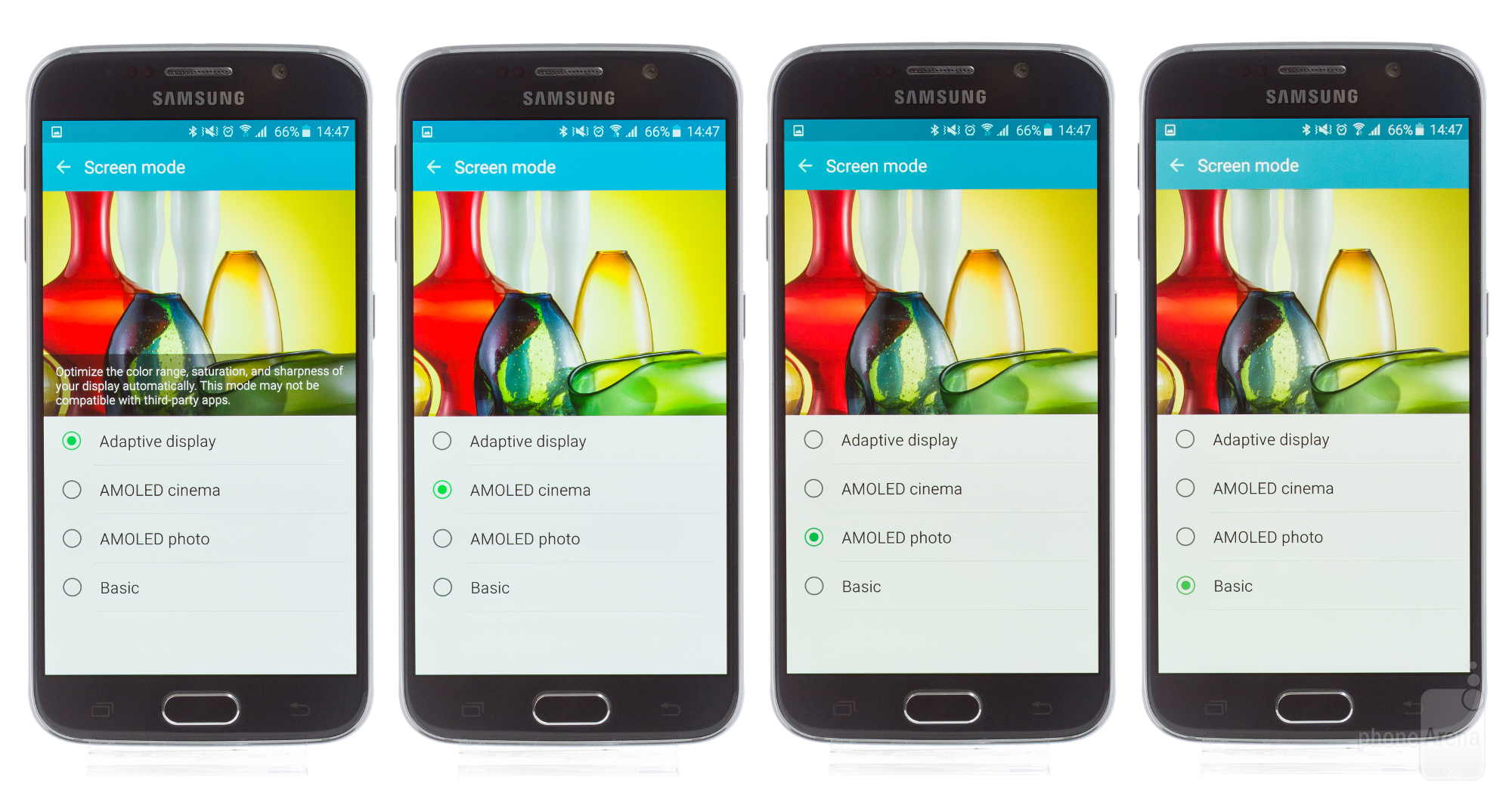 Color differences between the four display modes of the Galaxy S6.
Starting with Galaxy Tab S line of tablets, Samsung made true-to-life color reproduction an achievable target. No, it didn't give up on 'colors that pop', but instead introduced comprehensive display profiles that tweak the smorgasbord of variables that combine to create an image on the screen. This way, both camps were satisfied, as each had access to a preferred color profile. Not only does this approach work, it's actually preferable over having to settle for either.
As you can surmise, the Galaxy S6, with its 5.1-inch, 1440 x 2560 pixel resolution Super AMOLED display, is on the list of similarly blessed Samsung devices. Sure, it arrives at your doorstep with the default 'Adaptive' display profile on, but you can switch to 'Basic' in just a few taps. It may appear 'lifeless' next to AMOLED Cinema or AMOLED Photo, but it's by far the most color-accurate in the bunch, with an excellent color temperature of 6584 K (6500 is optimal!), meaning that whites are white, and grays are gray across the intensity spectrum. At 2.11, average gamma is also pretty decent (2.2 is optimal), though we observe a deterioration at higher brightness levels, where the image starts looking brighter, more washed out than it should. In general, however, we've got a very color-accurate display with a great RGB balance, all the while retaining the very healthy 563 nits of peak brightness and 2 nits at the lowest (awesome for night owls). This means that the coming of the summer shouldn't worry you — you'll be using the Galaxy S6 on the beach problem-free, even though that comes at the expense of color accuracy when you need it to go full out. In my opinion, that's more than a fair deal.
For what it's worth, I've been using the screen in 'Adaptive Display' mode, which tweaks contrast, color saturation, and sharpness depending on what's being shown on the screen, and that's been working well for me. The mode is also supposed to save you some much needed battery juice (more on that in due time) in the process. If you're a stickler for color accuracy, however, you might want to jump into Basic and make use of that.
Overall, top marks for Samsung's efforts with the Galaxy S6. It's the best of both worlds molded into a single display, and that ought to finally put the age-old Super AMOLED debate to rest. My only complaint? 3.7 million pixels on what is essentially a 5-incher simply can't be justified, especially since it comes at the cost of battery life. Notice that I'm not complaining that content for such a resolution is basically non-existent, even though it is, because that's how advancements in tech usually happen — early adopters cover most of the costs of R&D and get a bare minimum in return. If you're happy being one, then that's great. Personally, I'd argue that the Galaxy S6 would have been a better device had Samsung stuck with a lower resolution display, giving the battery a much-needed breather. Oh, how it could use one!