Living with the Samsung Galaxy S6, week 2: TouchWiz like you wouldn't believe it
20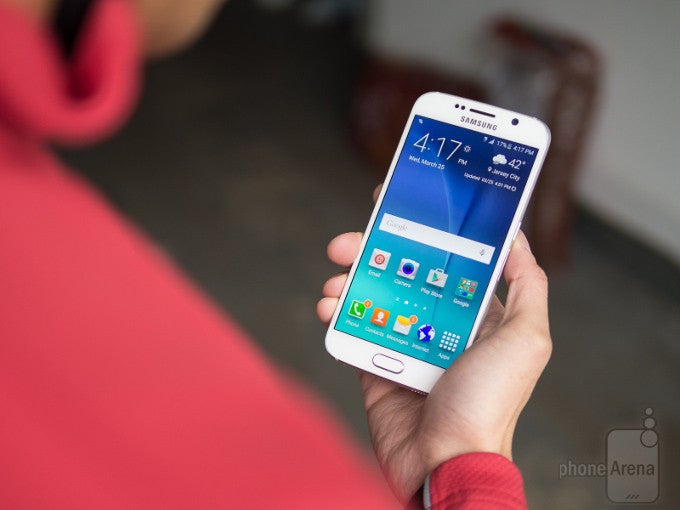 Almost exactly 365 days ago,
as part of my time spent living with the then current Galaxy S5 flagship
, I dedicated
not one
, but
two whole pieces
exploring its TouchWiz interface. That wasn't a whim on my part or anything like that — it was very much warranted. Why? Because TouchWiz is one of those recurring and polarizing topics that just beg a more in-depth commentary.
What can be only characterized as a giant leap is what occurred within Samsung's UX division, however. The iteration of the proprietary interface available with the Galaxy S6 is not only decidedly more approachable and streamlined, but it has also undergone a much-needed de-bloating session. In fact, almost as soon as I had the opportunity to test out the Galaxy S6 for the first time, I started wondering if this new take on TouchWiz would finally prove sufficient to end the incessant quibbling between Samsung loyalists and stock Android appreciators. Hopefully, I'll be able to provide insight into just that within the limits of this and the follow-up piece on TouchWiz I have planned.
TouchWiz on the Galaxy S5 means chaos!

Precursor
So what is it about Samsung's custom layout that seems to get people going as hard as it does? At the core of it, it's always been a question of balance — or lack thereof — between functionality and performance. As with most everything in life, you can't have one without at least partially affecting the other, and the question posed by the community at large has been whether the mix Samsung chose was a necessarily ideal. That is, the South Korean behemoth's UI has consistently been one of the heaviest on perks — but also gimmicks — and that has had a detrimental effect on the smoothness of navigation throughout it.
Dubbed 'Project Zero', the Galaxy S6 was supposed to be a sort of reset for Samsung in terms of how it approaches the flagship category. Whether you consider the plethora of changes observed with the S6 as enough is a topic of another discussion, but it's fair to say that we now have a greater focus on hardware and software design than ever observed before with Samsung. Since
we already covered the former
, it's time we talked about the latter.
New realities
If TouchWiz has been a major reason contributing to your steering away from Samsung's wares — as was the case with me — then I can honestly say that the improvements I've observed with the Galaxy S6 definitely qualify the company for another shot. Quite frankly, as soon as I had the opportunity to play with the S6 at MWC 2015, I knew that Samsung had finally seen reason. The interface has been de-bloated, streamlined, and optimized, all the while adhering to the new Material Design guidelines introduced by Google with Android Lollipop. The phone feels (and is) markedly faster to render the UI, and moving around it is done with a finesse that I, nor the rest of the reviewers at PhoneArena, had seen before from a Samsung device.
But not everything is perfect. The dialer is still on the heavy side, My Magazine is as maddeningly slow as ever, and launching the recent apps window can still, on occasion, get delayed. Overall, however, the Galaxy S6 flies, whereas its predecessors — even the Galaxy Note 4 — were crawling in comparison. This is the first time in years that I'm truly impressed with a Samsung device, and that's saying quite a bit.
A semblance of order

The streamlined TouchWiz of the Galaxy S6.
It's not all about the improvements in performance, however. Indeed, the new layout no longer looks and functions like a patchwork of a project, as you can finally find some semblance of order to its structure. Not only have some features been axed (like Toolbox and One-handed mode), but Samsung has also finally realized that its Settings menu was in a very serious need of optimization. And optimize Samsung has — whereas the monstrosity that was the Galaxy S5's TouchWiz version had over
sixty
icons, each hiding a number of submenus within, the Galaxy S6's settings tab now has about
thirty
. That's an incredible increase in efficiency, and I have to say it's been very well received.
Indeed, I no longer need to 'hunt' for some obscure option like I did a year ago with the messy Galaxy S5. I also no longer need to try and learn Samsung speak, as labels are a tad less ambiguous. This ensures that I, and any other Galaxy S6 owners, will have a considerably easier time making sense and working the new layout.
It's one year later, and My Magazine still needs to go
Let me repeat that: It's one year later, and My Magazine
just has to go
. But before I get into the why (nothing changed here), allow me to dial back and explain what My Magazine
is.
Starting with the Samsung Galaxy S5 (and then, unfortunately, spreading to the Note line), Samsung has partnered with popular news-curating app FlipBoard for its flagship devices. The result of the collaboration is a separate, dedicated pane on your leftmost home screen that is all about bringing you up to date on the latest in politics, business, tech, art, and whatever else you subscribe to. On paper, it's a nice idea. In reality, however, this continues to be an absolutely disappointing implementation, and even more so in light of all the good work Samsung developers did optimizing the UI.
As those of you who have gone through my pieces outlining my experiences with the Galaxy S5 might remember, the reason for My Magazine's continued failure has to do with speed — it doesn't seem that even the mighty octa-core Exynos 7420 is capable of transitioning to the news section problem-free, as the S6 always freezes when it does. So bad is the implementation, that when you want to swipe away to escape My Magazine, the lag follows you for the next two or so seconds, making it impossible to swipe further than a single pane away. In fact, even when all news stories are properly loaded, including header images, the full-screen widget is just unacceptably sluggish anyway.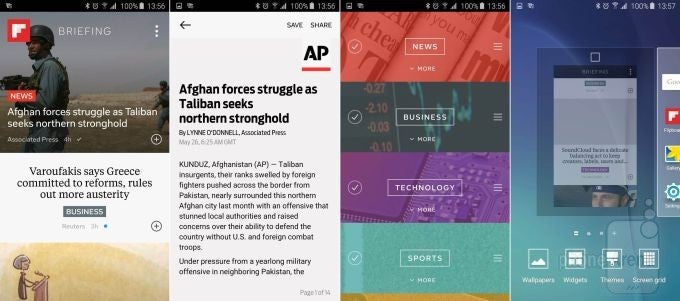 My Magazine. It needs to go.
To make point my perfectly clear, I did a little experiment and installed the FlipBoard app and put it on my default home screen. In my experience, once FlipBoard was loaded once, it was actually more efficient to just launch the app and get rid of My Magazine (long-press an empty space on the home screen > deselect My Magazine). This feature either needs to be axed, or vastly improved, as it just doesn't fit within this new performance-centric doctrine of Samsung's.
Coming up next, on Living with the Galaxy S6
Like last year, a single piece on TouchWiz, even trimmed as it is on the Galaxy S6, proves insufficient. There's just so much more to go through! Outlining specific features and giving you insight into how they work and function, is what my next update will revolve around. As mentioned, despite the commendable job that Samsung did streamlining TouchWiz, the proprietary software is still among the most functional on the market. While such extras and perks
can
be seen as nothing more than just that, they do happen to be integral to the Samsung flagship experience. As such, nothing less than an in-depth review will cut it, so do stay tuned.