Living with the LG G4, part 1: Hey there, handsome!
17
This article may contain personal views and opinion from the author.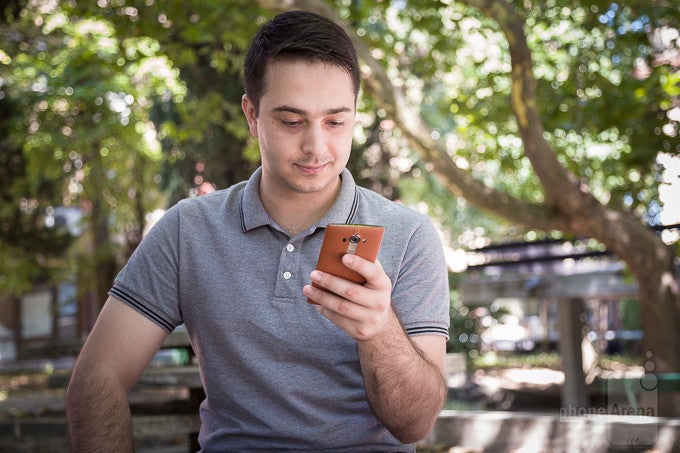 This is a story of a tech writer and his new smartphone. The guy in question is me. The smartphone – an
LG G4
, which I've been test-driving for some time now. My mission – a task which I gladly accepted – is to review LG's flagship after the hype around it has started to settle. I must find out what it's like to live with an LG G4 as a daily driver – where it truly shines in and what areas its maker should have paid more attention to. Sounds like fun doesn't it?
While I'm sure that reviewing the LG G4 in the long term will be a great experience, I'm afraid that I won't be able to provide you with solid conclusions overnight. That's just not how long-term reviews work. Instead, I'll first spend no less than a month in the company of the LG G4, after which I'll draw my final verdict. But I won't make you wait a month to hear from me, of course. Along the way, I'll be providing you with updates on my progress, based on all the positive and negative impressions I have logged in my notes. And today seems like a good day to do that. Allow me to kick things off by sharing a few thoughts on the G4's design.
Hey there, handsome
The LG G4 unit I received was provided with two different back covers, one of which was the regular cover made of silvery plastic. While it looked nice, I chose the second option – a brown leather back cover with real stitching going straight down its middle. It is probably what most people would have done in my place as the genuine material looks a gazillion times fancier compared to the plastic cover. Besides, the leather chosen by LG has a very distinct feel when touched – a feel you simply can't get out of most other high-end phones.
The LG G4's leather back drew me with its unique look
Mind you, I am by no means crazy about leather. What drew me towards that particular back cover was the unique look it had; it really helps the LG G4 stand out and make people's heads turn. Speaking of which, the handset's design was often noticed by people around me. At first, they wouldn't believe that the G4's back was made of genuine leather, but then I let them touch it. Oohs and aahs followed instantly.
Now would be a good time to highlight some of the possible downsides of choosing leather over plastic for your LG G4. Firstly, it doesn't match well with the phone's glossy plastic frame, or at least I don't find the combination very attractive. I must also mention that the camera cutout on my cover leaves a noticeable gap around the camera module – not a biggie, but perfectionists will find it annoying. And most importantly, the leather in use isn't very durable, but more on that in a few paragraphs.
Can you handle it?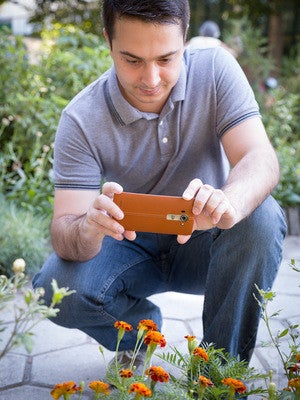 A large screen makes a great viewfinder when taking photos
I've never been a fan of huge smartphones. This is something I made pretty clear in my previous long-term review – the one where I spent over a month
living with the Samsung Galaxy Note 4
. But Samsung's phablet changed that. Adapting to its size took me only several days, and the more I used it, the more convinced I grew as to what an asset having a big screen could be.
As for the LG G4, it is one of the bigger flagship smartphones currently on the market, but I wouldn't call it too big. Basically, if you've ever used a phone with a screen of around 5 inches, I doubt that your hand and thumbs will have troubles adapting to the 5.5-inch display on the LG G4. Using it with a single hand isn't always easy, but that's a given with all phones of this caliber. And if it doesn't fit well in the pocket of your jeans, perhaps you should consider getting a few pairs with larger pockets. That's what I did.
Another thing I got used to rather quickly were the buttons on the G4's back. They have been a trademark feature of LG's phones since the G2's introduction, and while I don't think they're improving my experience in any way, they're not really making the phone any more difficult to use. In fact, they're very easy to feel and make for an excellent snooze button.
Is the LG G4 tough enough?
Genuine leather is well known for its durability and timeless look. It is often seen on luxury products, including handbags, shoes, wallets, even ultra-expensive designer phones. My leather-backed LG G4, however, is already showing signs of wear even though I've been taking good care of it. Most noticeable are the worn out corners of its leather back cover, as you can see in the photos below. Mind you, the phone has never been dropped and has been in use for only about a month. What might have caused these scuffs is the phone rubbing against the insides of my pocket, but that's just a guess. In any case, I don't want to imagine what this leather back cover would look like after, let's say, a year of use.

Speaking of durability, the glossy plastic frame of the phone is also susceptible to nicks, but these don't bother me much. They're practically invisible unless you take a closer look. The display, protected by Gorilla Glass 3, is holding up really well. It is scratched here and there, but I find it practically impossible to notice any damage while the phone is in use.
To be continued...
This concludes the first part of my long-term review of the LG G4. In the coming days, I'll be back with another update focusing on a different aspect of LG's flagship. And there's a lot more I want to share with you. The part I'm most excited about is the upcoming in-depth look at the LG G4's camera, but I'll also focus on areas like the overall software experience, the phone's multimedia capabilities, and the power of its hardware. Stay tuned for more!