Liveblog: Samsung's Nook tablet event
4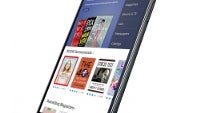 Barnes and Noble had a short flirt with mobile, with its Nook HD and HD+ tablets, but the company has recently decided that it just doesn't have that magic touch which transforms silicon into money, and thus the entire Nook hardware division has been spun off.
Exactly what devices are to come out of this solo endeavor in the future is yet to be seen, but now, it's time for us to see what the book seller has created in cooperation with Samsung. Back in June, the companies announced that they are to announce co-branded Nook tablets this August, and here we are, about to experience the first fruits of this new partnership.
Starting at 9:30 AM ET | 8:30 AM CT | 7:30 AM MT | 6:30 AM PT | 1 PM GMT | 3 PM CET, we'll be live-covering the joint event, so if this is something you've been looking forward to, well, don't look further than our liveblog below!