Like LoL and DotA: Here are 5 of the best MOBAs for iPhone and Android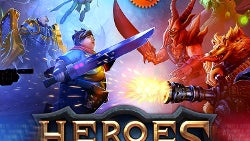 MOBAs, or Multiplayer Online Battle Arena games, have slowly, but surely become some of the most popular games to be played online. What started as a rather small and user-developed modification for WarCraft III roughly a decade ago is now among the most popular and played game genres across all platforms.
The rules of a MOBA are fairly simple — two teams duke it out until one manages to destroy a main structure in the base of the other. Depth is added by the fact that the games feature a large number of playable heroes to choose from, each with their unique skills, role, and team synergy, and further expanded by the many items that one can buy to expand on their hero's strength.
Just as you might imagine, MOBA games have also popped up on the popular mobile platforms, as lovers of the genre enjoy getting their fix when on the go. And while a couple of years ago the choices were... not so awesome, we're happy to say that right now, we have some pretty cool MOBAs to pick from when looking for a favorite. Some experiment with different control schemes, others offer offline mode for those of you who can't afford to be constantly online. Let's check out 5 of the best MOBAs for mobile!
Vainglory

Hands down, Vainglory is probably the most popular MOBA for mobile and for good reason. It looks great, it plays great, and has been developed from the ground up with serious, competitive play in mind. Best experienced on a tablet, but you can download it on your iPhone or Android handset as well. Controlling your hero is done by simple taps, as can be expected.




Call of Champions
Call of Champions knows that it's a mobile game and that you might not be in a situation where you can dedicate 30-40 minutes of absolute focus for a standard MOBA match. So, it changes up the formula a bit — instead of creeps, which help you slowly push down lanes, you have energy balls. You need to push said balls towards the enemy's camp, and to do this, you need to have more heroes around them than the enemy does. This simple change in gameplay mechanics encourages team skirmishes and quick, action-packed matches.
Eternal Arena
Eternal Arena offers a 3v3 multiplayer mode, but also a singleplayer quest-oriented gameplay for when you are on the road and out of a proper connection's reach. It's also a bit more arcadey, with a virtual joypad and buttons to control your hero, instead of the strategy-like tap and swipe input style.
Ace of Arenas
Another arcade-ish MOBA with a virtual joypad instead of tap controls. Ace of Arenas focuses around fast-paced, quick matches, either in 1v1, 2v2, or 3v3 format, but also a full-fledged 5v5 mode. It's aesthetic is very reminiscent of Dota, and you might notice some very Blizzard-like characters in there, too. It's a good choice when you have around 10 minutes to dedicate to a quick MOBA skirmish.
Heroes of SoulCraft
Heroes of SoulCraft is not only available for Android and iOS, but PC, too, and it offers cross-platform gameplay between mobile and desktop. Pretty cool, right? The game also offers 2v2 and 4v4 modes for shorter or longer matches, in case mobile users want to jump in just for a few minutes. Unfortunately, it's not the best-rated game, due to some bugs and some terrible sound designs. Still, we do believe that a MOBA fan should keep it on their radar, just in case it improves with patches over time.
Heroes of Order and Chaos
Old but gold, Heroes of Order and Chaos is still getting support and patches to this day, despite the fact that it was released in 2012. One of the benefits of being a few-year-old MOBA is the fact that, after so many updates, HoOaC now has more than 60 heroes, and tons of balancing tweaks done. If you want the frustratingly massive, yet somehow rewarding experience of having to learn the skills and synergies between a ton of heroes, it's hard to beat the veteran in mobile MOBAs.