Let there be light: accessories to brighten up your smartphone photography
4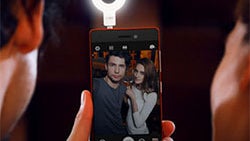 Every year, smartphone cameras get better and better; manufacturers have thankfully put the megapixel race behind them, so rather than trying to one-up each other all the time with phones boasting ever-higher pixel counts, they're instead able to actually sit down and concentrate on
enhancing image quality
. That's led to phones picking up larger sensors, dropping resolution in order to dedicate more surface area to each pixel, or investing in bigger, better lenses. While those each bring their own benefits to image quality, they share a common element: when the cameras on our phones are able to bring in and sample more light, we get better pics.
Problem is, our phones themselves can only do so much to help out when the lighting situation for the scene we're trying to shoot is less than ideal; modern LED flashes offer some solid performance, including the ability to match their color temperature to their environments, but they're a far cry from the
super-bright xenon flashes that become increasingly hard to come by
in phones as time goes on.
The good news is that we don't have to rely on our phones alone to carry all that illumination weight, and there are a bunch of accessories available for the serious smartphone-photography enthusiast to help add a little extra lighting when needed. Those range from xenon to LED units, and offer phone-mounted as well as external form factors. Let's take a look at a few of the options out there to help brighten up your smartphone photography.
ASUS ZenFlash
ASUS just announced
its latest round of new smartphones this week
, bringing us the well-equipped ZenFone 3 family. And while those handsets didn't launch alone, arriving alongside tablets like the Transformer Mini and
Transformer 3 Pro
, the company didn't have quite the same accessory lineup as it brought last year to the ZenFone 2 launch. That spread gave us the super-charged lightning solution you see here, the
ZenFlash add-on xenon flash
.
The ZenFlash attaches to compatible ZenFone handsets, sticking on back with the help of an adhesive pad and connecting to the phone over USB. That wired connection allows the ZenFlash to operate without needing to keep the unit independently charged; it gets its power right from the phone it's being used with.
When not in use, the ZenFlash tucks its cord away within, and comes with its own bumper case for easy carrying.
The xenon flash offers what ASUS claims is illumination that comes in 100 times brighter than an LED, while also offering a wide 70-degree angle of coverage.
Check out the ZenFlash at the
official ASUS website
, where it sells for about $30.
ASUS LolliFlash
We're not done with ASUS quite yet, and right around the same time the ZenFlash landed to give smartphone-photography enthusiasts an all-too-rare xenon option, we also saw the company introducing a compact LED accessory able to give your pics a few extra photons to work with.
Meet the LolliFlash, a rechargeable dual-LED accessory that illuminates your scene at one of three brightness settings, ranging from 1.4 lux to 10 lux. That won't carry quite the "oomph" of the ZenFlash, but the LolliFlash does offer quite a few tangible benefits.
It's got a wider 95-degree illumination pattern, includes color filters to add some artistic contrast, and weighs a mere eight grams. But maybe its biggest selling point over the ZenFlash its its broad compatibility, not restricted to just other ASUS models; just pop it in the headphone jack of the phone of your choice.
ASUS sells the
LolliFlash
directly for just under $15.
Xuma Mobile LED Light Set
If
one
LED flash is good, and a
dual
-LED flash is better, shouldn't more and more LEDs continue to improve things still? That's the logic behind Xuma's Mobile LED Light Set, combining 48 LEDs for up to 46 lumens of output.
The real benefit is the light's flexibility, and Xuma sells the unit with some assorted mounting options; you can attach it to your phone's headphone jack, stick it on a convenient surface with its suction-cup mount, or clip it onto the edge of your handset's body.
No matter where you put it, you can select from high, low, and strobing outputs, and users can expect about four hours of use on a fully-charged battery. In a world of smart devices, the "dumb" nature of this light also gives it the benefit of cross-platform compatibility.
You can pick the Xuma Mobile LED Light Set up from
B&H Photo
for about $35.
Lenovo VIBE Xtension Selfie Flash
Like ASUS, Lenovo has its own flash accessory for its smartphones, introducing the VIBE Xtension Selfie Flash
back at least year's CES
.
The rechargeable unit, as its name suggests, is perfect for adding more light to your selfie shots – a necessity when many phones still lack their own front-facing flashes. It pulls that off with the help of eight white LEDs, arranged in ring formation.
We realize that doesn't offer quite the same effect as a lens-mounted ring flash (like you'd find on a professional camera), but we appreciate Lenovo's effort in giving us a tool that looks like it belongs in a photo-enthusiast's bag, all the same.
Lenovo's
still selling its Selfie Flash
, which you can pick up for nearly $25.
This is just scratching the surface, and there's no shortage of other smartphone lighting solutions out there. Some weren't even designed specifically for smartphone usage, but their universal nature makes them a great fit in a pinch. Do you have a favorite we didn't mention here? Let everyone know about it in the comments.
Recommended Stories