The ZenFlash adds a Xenon flash to your Asus phone
14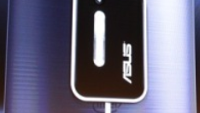 Asus had a surprise for everyone
during its ZenFone 2 event today in Taiwan
. In addition to unveiling the
Asus ZenFone 2
, the manufacturer introduced the ZenFlash. This is a dongle that comes with a Xenon flash that connects to your Asus phone using a USB OTG connection. The resulting flash is said to be as much as 400 times as bright as your typical LED flash. All of the important stuff like pricing and availability is being saved for another day.
Wait. There's more. Before sending everyone home, Asus also introduced the LolliFlash. This is your run-of-the-mill two-tone LED flash in a circular lollipop looking package. Available for any phone with a handset, the battery operated product is a torch as opposed to a flash. That means when it is turned on, it stays on. The idea is that you turn it on just before taking a photograph or a selfie to take advantage of the additional light that the product generates. And LolliFlash comes with three protective covers in red, yellow and blue, that double as a filter. Still no pricing or availability here either.
You can check out some pictures showing off the two lighting accessories by clicking on the slideshow below.
source:
Engadget