CES 2015: all new wearables and accessories
9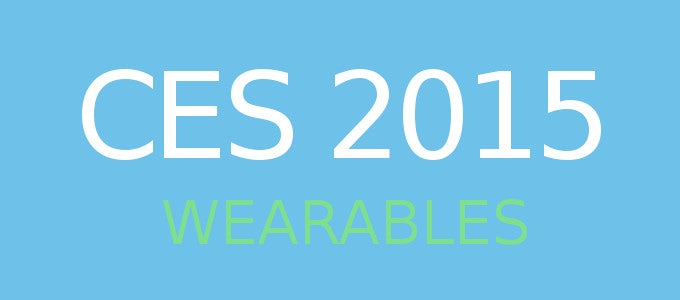 The
2015 Consumer Electronics Show
started with the proverbial bang yesterday, but while the number of announcements (
new smartphones here
,
new tablets here
) was not small, it's hard to be enthusiastic about all but a few devices. The CES showroom floor has shrunk down in size in the past few years, reaching a culmination in 2015 when neither Samsung, nor Sony, HTC, or LG were ready to unveil the important flagships. In fact, all of those companies prefer to keep their most important unveilings for later on in the year at dedicated events that would guarantee enough limelight and adequate coverage.
However, in the world of wearables and accessories, such worries have not really transcended, and we were happy to see a fairly large amount of new gadgets in those categories. With this next wave of wearables out, we'll finally be able to better judge whether the craze around the new category of wearables is real or marketing fluff.
But right now, let's just explore all the new accessories and wearable devices unveiled at CES 2015.
Sony SmartWatch 3
Price: N/A
Release date: February 2015
The Sony SmartWatch 3 is not a revolution in terms of functionality, but it seems that Sony has finally gotten one thing right about smartwatches: they ought to look impeccable on the wrist. The SmartWatch 3 with its replaceable bands and great style is exactly that. The stainless steel version of the timepiece is what caught our attention. Apart from that, we're looking at a 1.6-inch TFT LCD transflective display with a 320 x 320 pixel resolution (283 ppi), the same quad-core processor, 512MB of RAM and 4GB of internal storage. Also on board is a 420 mAh cell that will give you up to 2 days of "normal" usage.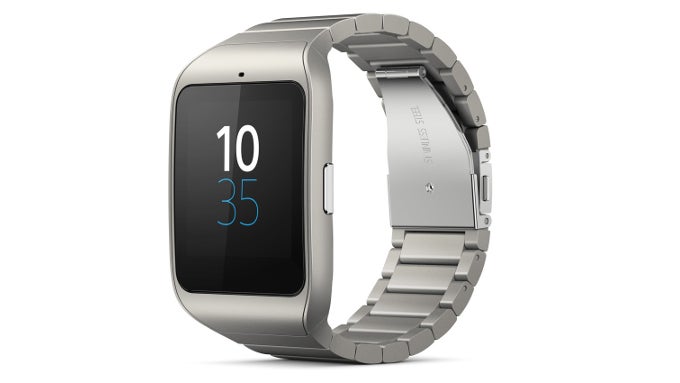 Sony SmartWatch 3
Withings Activité Pop
Price: $150
Release date: January 5th
Masked under the looks of a regular watch, the Withings Activite Pop quietly tracks your steps, runs, swims, and sleep, and gives you all that information in a non-obtrusive way on a dedicated app. It also comes with battery life of several months (yeah, months, not days), and it's already available on store shelves at Best Buy. That's what we call a smooth, fast launch!
Shure Motiv line of Apple MFi-certified microphones
Price: ($149 MV88 | $199 MV51 | $99 Motiv MVi Digital Audio Interface)
Release date: Summer 2015
Shure is a big name in audio equipment, and it has now recognized the importance of mobile devices that are often used to record interviews, music, and what not. The problem with that is the poor quality of the built-in microphones. Shure's new Motiv 2015 mobile lineup aims to fix that with several new gadgets: the MV88 plug-in condenser mic, MV51 a large-diaphragm mic, and Motiv MVi Digital Audio Interface allows you to connect any standard XLR microphone — including those requiring phantom power — or ¼-inch plug for guitar, bass or keyboard to any iOS device, Mac or PC for seamless, high-quality audio capture.
Fitbit Charge HR | Fitbit Surge
Price: $150 | $250
Release date: Available
The Fitbit Charge HR is a smart fitness-tracking wristband that has Fitbit's PurePulse proprietary optical heart rate recognition technology at its core. It motivates users to maintain workout intensity and monitors calorie burn. The bright OLED screen displays day-long stats and continuous heart rate tracking with steps, distance, floors climbed, calories burned and time spent exercising. The Exercise Mode mode records your workouts and gives out real-time exercise stats, detailed summaries, and heart rate insights. Then, there is he Fitbit Surge. This is the Fitness Super Watch, which has all the power of the Fitbit Charge HR, but also offers a built-in GPS, seamless mobile device sync, Multiple Sport Mode for classifying workouts and viewing detailed summaries of completed exercises, customizable watch faces, Caller ID, text alerts and mobile music control.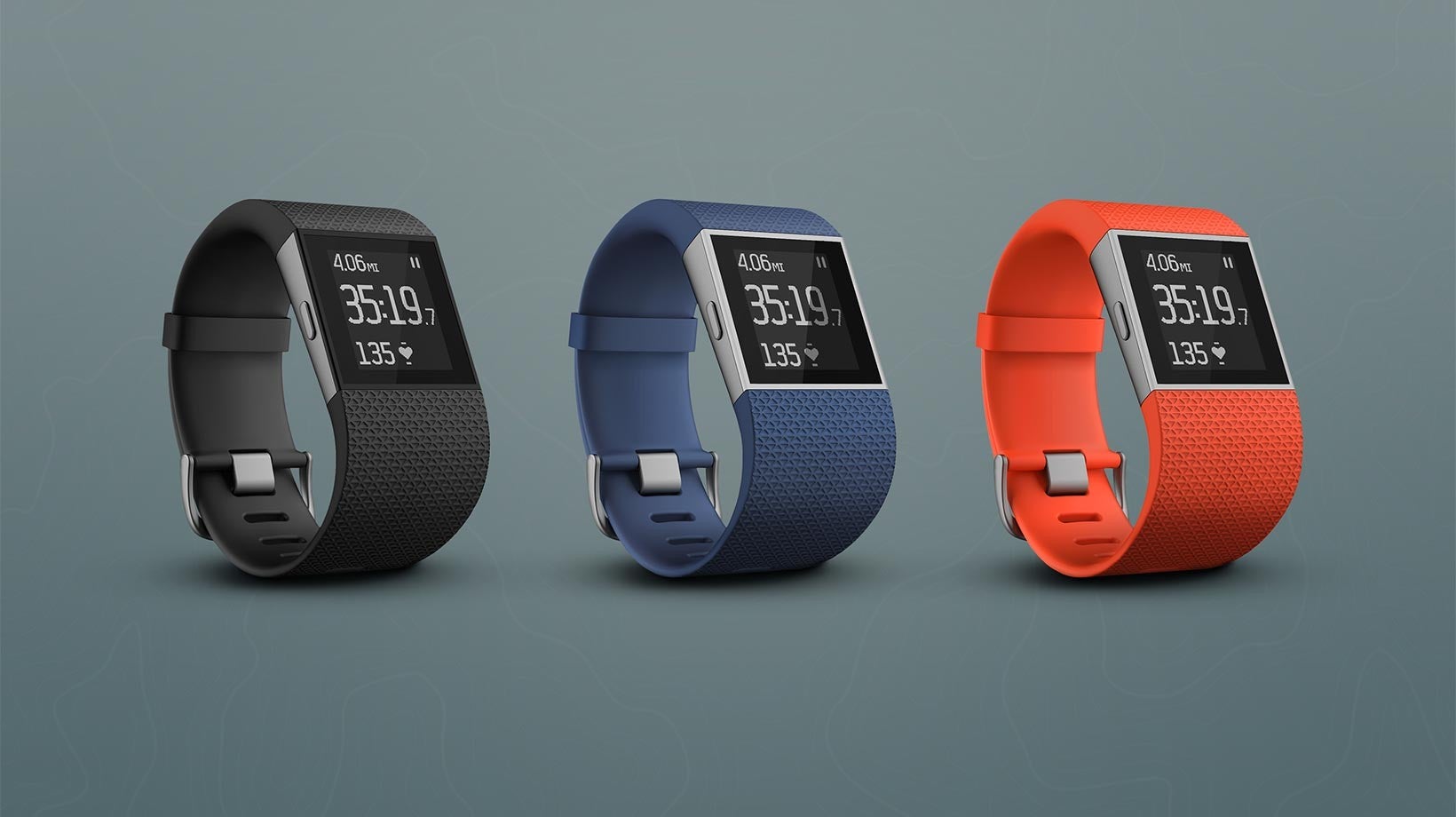 Fitbit Surge
Sony SmartBand Talk
Price: N/A
Release date: N/A
Sony's SmartBand Talk is the follow-up of the company's SmartBand – a wearable that lacked any type of display and was only meant as a fitness / health tracker. Now, SmartBand Talk combines this with another tech Sony has been experimenting with – the e-paper watch – and brings us a water-resistant fitness band with an e-ink display. Additionally – the "Talk" in SmartBand Talk comes from the fact that the wristband accepts voice commands, so there's that mystery unveiled.
Alcatel OneTouch Watch
Hands-on
Price: $150
Release date: NA
A more affordable Moto 360 look-alike, the Alcatel OneTouch Watch ($150) brings the craved round smartwatch form factor sprinkled with some of its own user interface ideas. Keep in mind that it does not run on Android Wear, though, and this will translate in an inevitable lack of apps. The OneTouch Watch is running on a not very common STM, low-power STM 32F429 MCU running at 180MHz. The big advantage of the OneTouch Watch is its promised battery life of up to 5 days, nearly 5 times that of a common Android Wear watch.
Lenovo VIBE Band VB10
Price: $90
Release date: April 2015
The main highlight of the Lenovo VIBE Band VB10 is the 1.43-inch 296 x 128 E Ink display, one that alleges to provide longer-than-normal battery life. Well, Lenovo has it rated to deliver up to 7 days of battery, which is fine and dandy, but we know of several other fitness trackers that have similar ratings. Pressing on the button on the side of the unit cycles through the various modes, where we can view relevant data such as steps taken, SMS notifications, calories burned, and the time & date. Since it relies on an E Ink display, it constantly refreshes before it's able to display something else. One thoughtful thing to bear in mind is the standard microUSB port on its side to charge its internal battery, so there's no proprietary thing like other models.
Lenovo Vibe Xtension Selfie Flash
Price: $30
Release date: April 2015
Lenovo's Vibe Xtension Selfie Flash comes to solve the first-world problem of poorly-lit selfies: it plugs into your smartphone's headphone jack, and its power comes from eight white LED bulbs. The flash effect works best on a 3-foot (1 meter) distance. The little gizmo lasts to up to 100 flashes on a single charge.
ZTE SPRO 2
Price: N/A
Release date: N/A
ZTE took the most desirable feature sets to a mobile projector idea, and came up with a connected solution that will certainly find appeal to the mobile businessperson, but also the consumer segment. ZTE decided to build on evolving what it had created with its LivePro hotspot projector which has been available with Sprint since July last year. The LivePro is launching nationwide as a Wi-Fi only model on January 6th, and has been rebranded the SPRO. At CES 2015, ZTE took the covers off the SPRO 2, a mobile hotspot running Android and supporting LTE-Advanced and data speeds up to 150Mbps.
Recommended Stories