Legere says RootMetrics report is outdated; report said T-Mobile was fourth best major U.S. carrier
21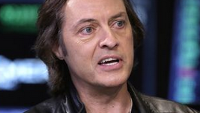 Earlier Wednesday, we told you about a report done from RootMetrics
that showed Verizon to be the best network overall
among the four major carriers in the states. T-Mobile finished last in all categories, except for a third place finish in speed. Of course, you wouldn't expect T-Mobile CEO John Legere to let that report go by without making some comments, including one about the date of the tests, which were taken during the second half of last year.
In a series of tweets, Legere sarcastically congratulates his competitors. The executive says that they "
knocked it out of the park on that report, LAST year when the tests were done
." He also teased a report that CTO Neville Ray was supposed to release later today that would apparently reveal how RootMetrics reports are slanted.
We get that the CEO feels compelled to defend his network, and even understand that the report might include information gathered last year. Since then, T-Mobile has purchased that block of 700MHz spectrum from Verizon. But public support in the U.S. is a fickle thing, and the combination of
the mean spirited (yet still outrageously funny) slap at BlackBerry CEO John Chen
, combined with today's complaints, could make Mr. Legere's act start to wear thin amongst his many supporters.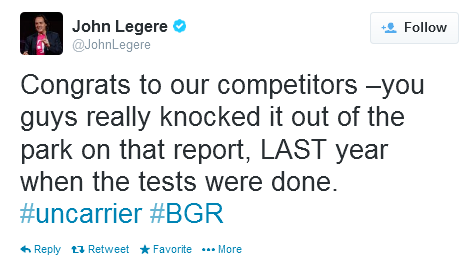 T-Mobile CEO John Legere responds to RootMetrics' report
source: @JohnLegere (
1
), (
2
) via
BGR