Latin America will get a Snapdragon 652 + 3GB RAM variant of the LG G5, no VR 360 headset
61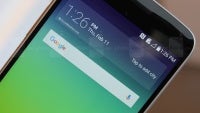 The LG G5 was among the first Snapdragon 820-powered devices to be announced this year, and we got the impression that LG's flagship will ship worldwide in one configuration, that is SD 820 + 4GB of LPDDR4 RAM and 32GB of storage. Apparently, this won't be the exact case. LG's Sales manager for Chile, Cristián Correa, has confirmed to mobile technology website Pisapapeles that the
LG G5
will be sold in a snapdragon 652 + 3GB RAM variant within Latin America.
the Latin American LG G5 will be fast, but not blazing-fast.
What kind of performance difference should be expected? Simply put, the Latin American LG G5 will be fast, but not
blazing-fast
. While the 820 has four custom-designed Kryo cores clocked at up to 2.2 GHz, the 652 has four stock ARM Cortex A72 and four Cortex A53 clocked at up to 1.8GHz.
Although it has twice the number of CPU cores,
the 652 is comparatively under-powered
, has a weaker graphics unit, and is limited to LPDDR3 RAM, rather than the faster and more power-efficient LPDDR4 RAM. While still a decent configuration, this is upper mid-range material at best, rather than a flagship-grade set of specs.
In addition, the Latin American LG G5 won't support the
VR 360 headset
, which is part of the smartphone's
"Friends" accessories line-up
. The 360 VR is specifically mentioned as unavailable, and as for the rest of the pack, we don't know.
Explaining the reasoning behind LG's decision, Mr. Correa said that it was made based on the feedback given by several operators in the Chile region, the situation with currency appreciation in Latin American countries, and lack of interest in VR entertainment. He believes that this configuration is a
"better proposal"
for customers in the region. Of course, one is always able to import the Snapdragon 820 + 4GB RAM model if they are able to afford it.
We haven't heard about other markets getting the downgraded LG G5, but we'll be sure to let you know if such news arise.
Recommended Stories