Latest issue for Samsung: Galaxy S7 rear camera lens mysteriously shatters
99+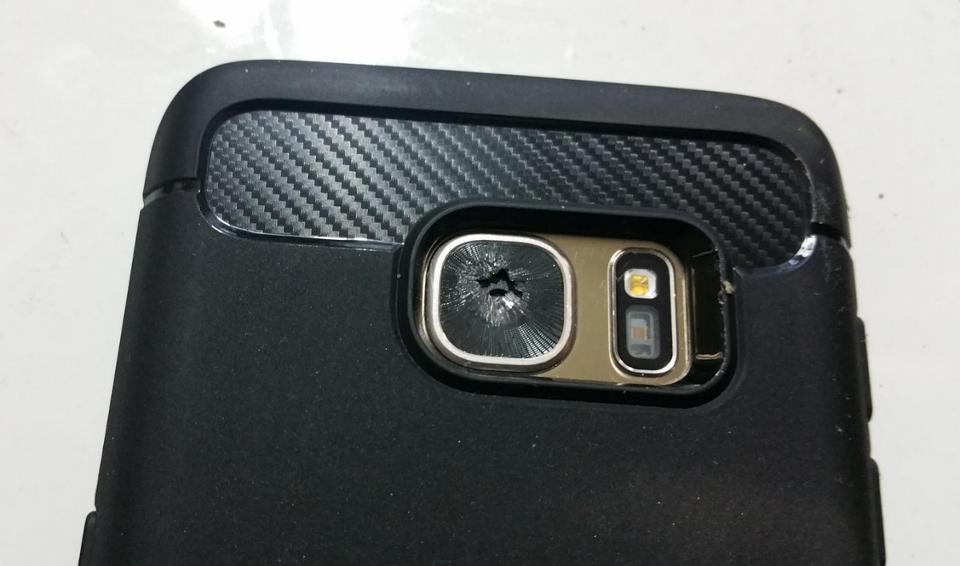 Some Samsung Galaxy S7 users are finding their rear camera lens shattered despite the lack of impact
One company happy to see 2016 end tonight is Samsung. The company had a great start to 2016 as the
Samsung Galaxy S7
and
Samsung Galaxy S7 edge
quickly
became the top Android flagship models
. And smartphone fanatics were eagerly awaiting the feature packed
Samsung Galaxy Note 7
. This was to be the first Galaxy Note model to be protected from the rain. And with that IP68 certification rating, the phablet could be submerged in up to nearly 5-feet of water for as long as 30-minutes and escape unscathed.
But in an attempt to throw everything into the Galaxy Note 7 but the kitchen sink, Samsung engineers tried to create internal space by designing a svelte battery. But in doing so,
Samsung apparently didn't leave enough room to prevent volatile parts of the cell from touching
. As a result, several Galaxy Note 7 units exploded. A couple of recalls later, and the Galaxy Note 7 was pulled off the market.
The latest problem affecting Samsung has to do with the camera on the back of the Galaxy S7. In a story that was published in the
Consumerist
last week, a Galaxy S7 owner named Sean woke up and discovered that the glass on his back camera had shattered even though it was left untouched and in a case overnight.
As you might imagine, Sammy wasn't buying the story and refused to honor the warranty. Other owners of this model have apparently been experiencing the same issue and have posted about it on the Samsung Community website. While Samsung's response to some of the posts call the damage an "isolated incident," the thread contains 22 pages of similar complaints.
Even if you've already laid out the $70 or so that it costs to repair the camera lens, legal help might be on the way. A law firm named Keller Rohrback L.L.P. is looking to speak with Galaxy S7 owners whose rear camera lens shattered despite the lack of any impact. If this has indeed happened to you and Samsung refuses to give you the time of day, click on the sourcelink. The law might be on your side.
"Multiple consumers have reported instances of this glass cover shattering without any external force applied, leaving a perfect circle in the center of the glass as if it had been shot out. Despite receiving numerous customer complaints about this apparent defect, Samsung has consistently denied any responsibility, instead blaming its customers and refusing to repair or refund the devices even while still under warranty. Samsung recognizes that a quality camera is a critical distinguishing feature of any smartphone and heavily marketed the Galaxy S7 Series with this feature in mind. Without a usable camera, a smartphone is a device that only partially functional at best, and with Samsung refusing to repair or refund these defective phones, many consumers are finding themselves stuck with them."-Keller Rohrback LLP
source:
KellerRohrbackLLP
,
SamsungCommunities
,
Consumerist
via
Forbes