Latest figures show 30% gain in Android 2.3.3 and 2.3.4 users over 1 month
13
Using figures picked up over the last two weeks ending on Friday, Android users with a phone that has the Android 2.3.3 and 2.3.4 builds of Gingerbread installed rose 30% from last month. Android phones with
those two versions of Google's open source OS aboard now make up 30.7% of the Android universe
and is still rising. On the other hand, while Android units powered by Froyo (Android 2.2) still account for a majority of Android smartphones in use with a 51.2% slice of the pie, that is down from the 55% share seen one month ago. And as more and more new Android models come to market, that number should continue to shrink. As for Honeycomb, all three current builds (3.0, 3.1, 3.2) are accounting for 1.4% of Android devices, up slightly from the last survey's 1.3% total for Android tablets running Honeycomb.
The next big build for Android is, of course, Ice Cream Sandwich or Android 4.0. As we
reported
, Verizon could be getting the exclusive on the first ICS powered smartphone, expected to be the Samsung DROID Prime. With any luck,
this model could be launched as soon as next month
, in time for this to be Verizon's new Android flagship model, although there is no word on how long the exclusivity might last. When it does expire, other carriers are expected to offer the
Google Nexus Prime
, which should also have Ice Cream Sandwich installed.
source:
AndroidDevelopers
via
AndroidCentral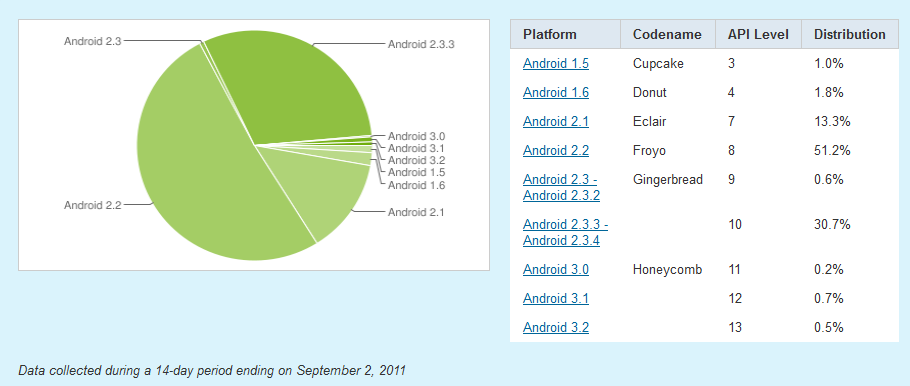 Android 2.3.3 and 2.3.4 added 30% more users over the last month