Verizon to get ICS exclusive in the form of the Samsung DROID Prime
99+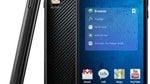 A new report from BGR is claiming that the Google Nexus Prime will be coming to Verizon in its own way with a variant that will be called the Samsung DROID Prime. According to the exclusive, the phone will launch exclusively on Verizon as the first Android Ice Cream Sandwich device as early as October.
BGR does have a track record on Nexus Prime info. The
first exclusive from the site
came in June which detailed that it was a Samsung-built device, the name of the device, that it would launch with Ice Cream Sandwich, have a TI OMAP 4460 1.5 GHz dual-core SoC, and the Super AMOLED HD 720p screen. Although we've only had full confirmation of the first three items, it's looking more and more that all of that report was indeed correct
based on our rumor roundup
.
According to the new report, Verizon didn't think the Galaxy S II would be competitive with the iPhone 5 at launch, which is why the carrier
will not carry the device
. Instead, Verizon will exclusively be launching the DROID Prime complete with Ice Cream Sandwich as its flagship device for the holidays. There are no details on the exclusivity, so it's unclear how long Verizon has the DROID Prime exclusively, and when the Nexus Prime would hit other carriers.
The report doesn't comment any further, but given that the device would be part of the DROID line, not the Nexus line, it seems possible (if not likely) that Verizon will be adding some bloatware or pulling the device away from stock Android in some other way. It'll be great to see a variant of the Nexus Prime on Verizon, but don't be surprised if you'll have to root in order to get stock. The Nexus Prime should still be hitting other carriers, but assuming this report is correct, that wouldn't happen until after Verizon's exclusivity period.
Let's just hope this exclusivity period goes better than Verizon's Honeycomb exclusive.