Latest ad for the Apple iPhone is all about the tunes
50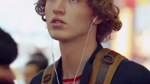 You might remember
Apple's recent ad for the Apple iPhone 5 that concentrated on the camera
. There was no talking in the ad until the end when an announcer said that more photos are taken with the iPhone than with any other camera. Now, the newest ad for the iconic smartphone reminds us that with a pair of ear buds plugged into the earphone jack, the device becomes a personal musical player.
So we get to see a number of quick cuts with people listening to music on their
Apple iPhone 5
, including one who is apparently listening to music while in the shower. That is something we wouldn't recommend because the iPhone is not one of the top-shelf models that comes out of the box waterproof. And while the handset isn't getting wet, well that is
just too close
for comfort in our opinion. Even the shot of the swimmer by the pool shows a disregard for what could happen when you mix water and smartphone.
But we digress. "
Everyday, more people enjoy their music on the iPhone than any other phone
," says the voice over announcer, and that's the only words we hear during the entire ad. While we still enjoy the ads for the OG
Apple iPhone
better, we do admit that Apple can get away with the silence that covers most of the new spots. Back in 2007, the device was new so the commercials introduced the features ("This is the browser...this is YouTube...this is how you take a call"). Apple no longer needs to explain the device to people, but has a new chore. With the competition from other handsets like the
Samsung Galaxy S4
, Apple needs to show why people choose its smartphone over others. So the ads basically say, if you like taking pictures or listening to music, you should own an iPhone. We expect future ads in the series to focus on other features as well.
source:
Apple
via
AllThingsD