Latest Android distribution numbers kill off Froyo at long last
39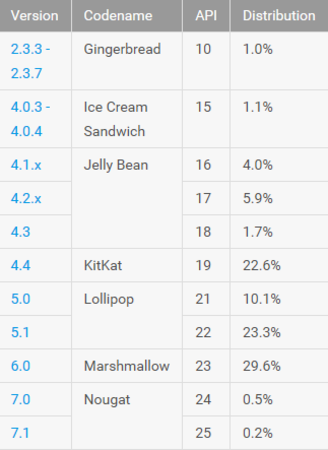 Android 2.2-2.2.3, better known as Froyo, is now gone from the distribution chart
As usual during this time of the month, the latest Android distribution numbers have been released. And for the first time in years, the Android build known as Froyo is no longer on the chart, having died out. Froyo covered Android 2.2 and Android 2.2.3 and was launched on May 20, 2010. Last month, it was on .1% of Android phones. The data is based on the handsets that have visited the Google Play Store over the last seven days, ending January 9th.
The most widely used Android build according to the new report, is Android Lollipop which includes Android 5.0 and Android 5.1. Combining the 23.3% of handsets powered by Android 5.1, with the 10.1% running Android 5.0, means that a leading 33.4% of Android handsets are using Lollipop at present. Marshmallow (Android 6.0) is next with 29.6% of Android handsets employing this build. With 22.6%, Android 4.4 KitKat is next. Android 4.1.x, Android 4.2.x and Android 4.3 combine to make up Jelly Bean, which is on 11.6% of Android phones. Ice Cream Sandwich, or Android 4.0.3 to 4.0.4, has a 1.1% slice of the Android pie. Gingerbread, which includes Android 2.3.3 to 2.3.7, is next with 1%.
And that leaves the newest build of Android, Nougat. Made up of Android 7.0 (.5%) and Android 7.1 (.2%), the two combine for .7%. Nougat was officially launched on August 22nd, 2016 and updates to it have been slow going. Hopefully, when we come back and meet right here early in February, Android 7.0 and Android 7.1 will have picked up some momentum.
source:
Android
Recommended Stories