LG's monstrous GW990 will transition to MeeGo
2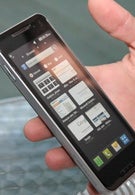 The
LG GW990
, one of the largest smartphones the world has ever seen, was to be
the first smartphone running on Intel's Linux-based Moblin
operating system. Well, it might still be, but now rumors are pointing that the device may sooner or later end up having the newly-announced MeeGo OS, which is the result of
Maemo and Moblin's fusion
… Still following us? The thing is that an LG presenter has said the LG GW990, also the first phone to utilize Intel's Moorestown chipset, will "transition" to MeeGo, reports Grearlog. That's certainly good to know for users who plan on purchasing this device, as Nokia and Intel's announcement about the merge of their platforms inevitably raised the question of what OS will the LG GW990 actually run. Still, it isn't clear what impact this is going to have on the functionality of the device, as it will be running the personalized S-Class UI on top of the OS.
Now, another question comes to our minds – will the
Nokia N900
also get "transitioned" to MeeGo?
LG GW990 Specifications
|
Hands-on
source:
Grearlog