LG's handset division reports $47 million profit for 2012
12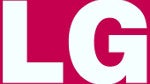 Since we are not RefrigeratorArena or AirConditionerArena, we are indebted to LG for breaking down their quarterly earnings in such a way that we can easily find the information that our readers want to know about. We could tell you that LG made
$80.75 million USD
in 2012, or that a large fine because of cathode-ray pricing led to a $428.96 million loss in Q4, but that isn't the juicy stuff.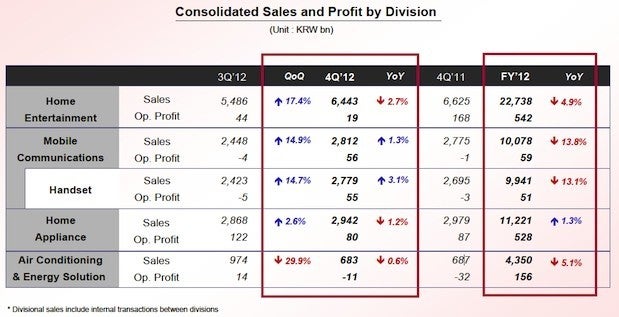 LG's earnings for Q4 and all of 2012
Instead, you want to know that the handset division reported a 14.7% quarter over quarter gain in revenue to 2.78 trillion KRW ($2.57 billion USD) which was a year-over-year gain of 3.1%. Profits of 55 billion KRW ($50.8 million USD) in the handset business for Q4 rose from a loss of 5 billion KRW last year. For the year, handsets brought 9.9 trillion KRW ($9.1 billion USD) into the company's coffers, a drop of 13.1% from 2011. For all of 2012, the handset division profited by 51 billion KRW ($47 million USD).
For the entire Mobile Communications division, which includes handsets, LG rose fourth quarter revenue 15% sequentially to 2.81 trillion KRW ($2.58 billion USD). The year-over-year gain was just 1.3%. Profit amounted to 51 billion KRW ($47 million USD). For all of 2012, Mobile Communications accounted for 10 trillion KRW ($9.2 billion USD) in revenue, a drop of 13.8%. Profits came to 59 billion KRW ($54.4 million).
Smartphone shipments
rose 23% sequentially
in Q4, from 7 million units to 8.6 million. Premium LTE handsets like the
LG Optimus G
and the LG Vu:2 increased sales in the fourth quarter, as did the LG L-series models and the back-in-stock
Google Nexus 4
.
source:
LG
via
Engadget