LG looking for partners to enrich its "Friends" and modules ecosystem
18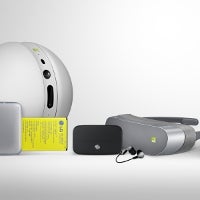 LG's
G5
is the first commercially available smartphone to feature a modular design – the handset's bottom bezel comes off to allow room for extra modules to be attached in its place. Additionally, when the company announced its upcoming flagship, it also introduced the "LG Playground" concept — an ecosystem for 3rd party devices, called "
LG Friends
", which would connect to the G5 and provide enhanced user experience with various activities one would be able to perform. Currently, the "Friends" include a Rolling Bot drone with a mounted camera, the LG 360-degree Cam, and the LG 360 VR goggles. The modules we know of at this point are only two – the Cam Plus, which provides hardware controls for the G5's camera, and the Hi-Fi Plus, which contains a high quality Bang & Olufsen audio DAC for audiophiles.
Of course, in order for an ecosystem to be alluring to customers, it also has to be rich and engaging, with various hardware and software solutions, which would entice users to buy into and stay in it. LG, naturally, gets that, so the company has extended a proposition to numerous developers — both hardware and software — to participate in its Playground.
LG held a G5 and Friends Developers Conference at Nuri Dream Square in Seoul, South Korea, on the 17th of March. There, the company explained that anyone who wishes to develop software or hardware for the Playground ecosystem will soon be able to, thanks to software development and hardware development kits, which are to be released through developer.lge.com in April. Partners will be able to sell their products through www.lgfriends.com — a website, launching on the 18th of April — and will share profits with LG, of course. Additionally, to increase interest among developers, LG will be holding a module ideas contest some time in April, though, it is currently unclear what the reward for it would be.
LG's G5 is
expected to hit markets
on the 31st of March, priced at $799.99 unlocked. Its first two modules – the Cam Plus and Hi-Fi Plus will don price-tags around the $85 and $160 marks respectively. Pricings on the Rolling Bot, 360 Cam, and 360 VR Goggles are still a mystery.