LG launches the water-proof Action CAM LTE: stream anywhere, control it remotely
2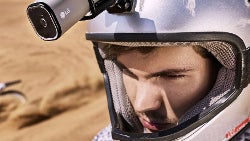 A couple of months ago, LG announced a new upcoming gizmo for its Playground ecosystem – the LG Action CAM LTE. As the name suggests, it's a portable camera, which offers users 4G connectivity, and comes with some protection to withstand some rough usage. In the case of the Action CAM, it's IP67-certified dust- and water-proof, allowing you to take it on those bumpy rides and hikes, documenting the whole thing.
The little camera can record 30 FPS in UHD (1440 x 2560), up to 60 FPS in FHD (1080 x 1920), and up to 120 FPS in HD (720 x 1280). Additionally, it can stream footage (in HD, 30 FPS) over 3G, LTE, or Wi-Fi, and supports YouTube Live. It's powered by a Qualcomm Snapdragon 650 and 2 GB of RAM, and has 4 GB of storage solely meant for its operating system. If the user wants to record any footage on the camera, they need to insert a microSD card of up to 2 TB.
You don't need an LG G5 to pair up to the Action CAM LTE — just any Android 5.0 Lollipop and above, or iOS 9 and up device. Syncing is done via the already available Action CAM LTE app and allows the user to store photos or video straight to their phone or tablet, and control the camera remotely. So, essentially, it can be used as home surveillance, if one so desires.
The Action CAM LTE comes with a small mount of its own, which provides some extra protection and allows it to be attached and used as an action camera. However, it's built to standard and can accommodate a wide variety of 3rd party stands, tripods, mounts, and accessories.
It's available in Titan Silver and is rolling out in South Korea today. Other "key markets" are said to follow in the weeks to come. Unfortunately, the gizmo's price is not yet revealed.
SEOUL, July 19, 2016 — LG's latest Friend smartphone companion device rolls out today in South Korea to be followed by other key markets in the weeks to come. LG Action CAMLTE offers robust features that allow for filming in dynamic environments and its built-in LTE connectivity, powered by the Qualcomm® Snapdragon™ 650 processor, means users can stream directly to sites such as YouTube Live via wireless 3G or 4G networks.

Rated IP67, LG Action CAMLTE is dust- and sand- proof allowing it to be immersed in up to one meter of water for up to 30 minutes. In addition to the included mount, this rugged camera is compatible with various third party action camera mounts and accessories to capture smooth footage while attached to helmets or moving vehicles.

Images and videos shot with LG Action CAMLTE can be downloaded and saved on paired smartphones via the Action CAMLTE app available on Google Play. The camera can record up to three hours of Full HD video on smartphones running Android 5.0 or iOS9 and higher. The durable camera can also function as a CCTV camera for home monitoring with images and videos saved to users' smartphones.*

"LG and Qualcomm Technologies have worked closely together over the years, and we are delighted that LG is extending the Snapdragon relationship, adding the LG Action CAMLTE to the existing 360 CAM and of course the amazing G5 itself," said Anthony Murray, senior vice president and general manager, IoT, Qualcomm Technologies International, Ltd.

"LG Action CAMLTE offers a new and exciting experience with unparalleled features and innovation," said Juno Cho, president of LG Electronics and Mobile Communications Company. "We are committed to developing a range of new Friends for LG G5 as well as premium LG smartphones in the pipeline."

Earlier this year, LG organized developer conferences in Korea and the United States and distributed an SDK to encourage development of LG Friends as well as sponsoring a competition to attract the best Friends ideas.

Price and exact date of availability will be announced locally.

Key Specifications:

Camera: 1/2.3-inch 12.3MP (150-degree wide angle lens) / 1.55 x 1.55㎛pixels
Connectivity: LTE / 3G / Wi-Fi 802.11 b, g, n / USB Type-C 2.0 / Bluetooth 4.1
Video Recording: UHD 30fps / Full HD 30, 60fps / HD 30, 60, 120fps
Video Live Streaming: HD (up to 30fps)
Chipset: Qualcomm® Snapdragon™ 650 Processor
Memory: 2GB RAM / 4GB ROM (OS only) / microSD (up to 2TB)
Size: 35 x 35 x 79.7mm
Weight: 99g
Others: IP67 / GPS / Accelerometer / Gyroscope
Color: Titan Silver* Feature to be available with upcoming software update.

# # #