LG Vu 3 phablet now official: 5.2-inch 4:3 display, powered by Snapdragon 800
39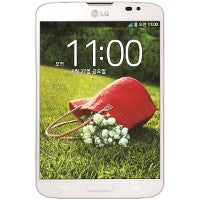 A quick search through our ratherextensive database of rumors shows that LG's Vu 3 has generateddisproportionately less hype than a device of it's class and statureusually does. The internals, asrumored, turned out great for the most part. Those include theodd 5.2-inch 1280x960 (308 ppi) display which features a boxy aspect ratio of4:3, Qualcomm's latest and greatest Snapdragon 800 clocked at 2.3GHzand an Adreno 330 GPU running at 450MHz. Along also comes 2GB of RAM, a13MP rear shooter with an LED flash, and a 2.1MP camera at the front.Moreover, the LG Vu 3 will come running Android 4.2.2 Jelly Bean outof the box, and have access to the world's fastest mobile networks,courtesy of its LTE-Advanced capabilities.
LG didn't stop there, though – adedicated rubber rhodium stylus pen has also been thrown into themix. Sadly, apart from providing the usual slew of functions likenote-taking, converting the phablet's screen into a notebook forwriting and drawing, and the like, it doesn't appear as if LG's newphone will surprise in this particular department.
Proprietary gadgetry and general techthat we've come to recognize will also make an appearance in the Vu3. These include LG's translucent QuickView case and softwarefeatures like KnockOn (first seen on the LG G2) and theself-explanatory Guest Mode.
While pricing is currently unknown,LG Vu 3's release date has been set for September 27, for the SouthKorean market at least – worldwide availability appears unlikely.This is to be expected, considering the relatively miserable amountsof excitement the boxy Vu 3 has generated in the West.
source: LG