Boxy LG Vu 3 to take on the Samsung Galaxy Note 3 with a lower price tag
22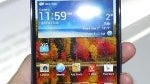 The boxy exteriorof the LG Vu line of phablets has been a target of mockery outside ofAsia. The odd, uninviting 4:3 aspect ratio of the screen has meant thatLG's phone was pretty unwieldy. This, however, doesn't appear tobother Samsung's local rival much, for if a new report is to betrusted, LG is aiming to announce the LG Vu 3 by the end of themonth and we're told that this time over, the phablet will be made available worldwide. This, as you can probably guess, will pit it directly againstSamsung's Galaxy Note 3, which is pricier at about $924 in SouthKorea, compared with the Vu 3's more conservative $740 price tag.What's more, though it may seem like we're poking a bit of fun out ofLG's phablet, the company used to brag that it actually sold overa million units of the original Vu – not too shabby for anon-standard device.
But, the Vu 3'slower price isn't an ingenious move on LG's part – the phablet'sinternals, while respectable, aren't really as impressive as those onthe Galaxy Note 3. Those include a quad-core Snapdragon 800 chipset,which will power the 5.2-inch 1280x960 pixel screen (yes, a 4:3aspect ratio). Much like the Note 3, the Vu 3 will also come with adedicated stylus, LTE-Advanced connectivity, a 13MP camera andAndroid 4.3 Jelly Bean.
The SamsungGalaxy Note 3 launches on September 25 in South Korea. Whether LGmanages to pull an announcement before that, however, remains in theair.