LG Thrill 4G Hands-on
21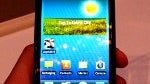 CTIA has brought the 3D hype to thenext level with two new devices featuring support for the thirddimension, but in the light of the recent AT&T-Mobile merger AT&T's LG Thrill 4G is what may end up in many pockets. You might be fooledby the new name, but the LG Thrill 4G is nothing else but are-branded LG Optimus 3D, which you should be prettyfamiliar with. It uses the same glasses-free parallax displaytechnology on a 4.3-inch screen with a pretty standard resolution of480 x 800 pixels. The dual 5-megapixel camera setup on the back willbring you 720p HD videos in 3D and 1080p full HD in 2D.
This 4G-capable powerhouse comes with anoticeable heft – it has a weight of 5.93 ounces (168 g), which youcan definitely feel. But even the design isn't final yet and couldchange in the couple of months before the device actually hitsshelves.
On the inside, though, the dual-core TIOMAP 4430 is one of the most powerful chipsets out there justcracking the benchmarks. The Thrill 4G will unfortunately be launchedwith Android Froyo, instead of the latest Gingerbread version. Italso comes with eight pre-installed applications making use of the 3Dcapabilities of the device including the 3D Gallery as well as a 3D Game& Apps portal, along with all four gaming titles: Asphalt 6,Gulliver's Travels, Lets Golf 2 and NOVA.
Is it better than the HTC EVO 3D? Check out the video below and our specs comparison between the two to make up your mind!