HTC EVO 3D vs LG Thrill 4G: specs comparison
65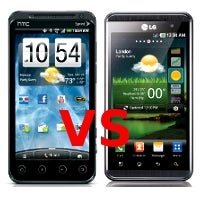 We know what's bothering you now - which of the only two 3D-enabled smartphones announced so far for the US offers the best bang for your buck - the
HTC EVO 3D
, or the
LG Thrill 4G
. Since they will be available on carriers as different in terms of technology used and coverage as are AT&T and Sprint, we'd say go for whichever carrier works best where you are.
In the pure specs comparison, though, the
HTC EVO 3D
comes slightly ahead. We assume they are both using the same type of parallax barrier overlay on top of their 4.3" screens to recreate this sweet 3D effect, when observed from normal distance and angle. The display on the HTC EVO 3D, however, comes at a much higher
qHD
resolution of 540x960 pixels, whereas the one on the LG Thrill 4G is the standard 480x800 pixels fare.
Since we know the 3D overlay diminishes the picture definition and quality somewhat when used, we'd say go for the higher pixel count. Again, we will have to make a comparison between the EVO 3D and the LG Thrill 4G up close and personal, before we pass any final judgment, but for now we'd take the higher-res display, all other things being equal.
They are not, however. The Texas Instruments OMAP 4430 chipset in the Thrill 4G seems to be the best dual-core silicon out there, based on some preliminary benchmarks we did at the MWC Expo with it (we scored
2800
on Quadrant with it in a prototype). Granted, it's the first time we encounter the dual-core
1.2GHz third generation Snapdragon
in a phone, so, again, we can't say which one is better before we have the production versions in our hand.
Recently leaked results
from benchmark sites databases, however, painted this Snapdragon as slightly inferior in overall performance than TI's chip in the LG Thrill 4G.
However, the HTC EVO 3D comes with 1GB of RAM, and the Thrill 4G's dual-channel memory is 512MB. Moreover, these benchmarks were with a far-removed prototype of the EVO 3D. Even if in the end it indeed turns out that its chipset is a tad slower than the OMAP4 silicon, we'd still rather have the display with the higher resolution before the benchmark bragging rights. Unless the qHD resolution on the HTC EVO 3D screen as achieved with a
PenTile matrix arrangement
, but we will check on that when it arrives for review in the office.