LG Optimus One achieves 1 million unit sales in the first 40 days
1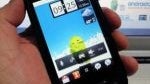 LG has proudly announced that their
Optimus One
model has sold an impressive 1 million units in the first 40 days of availability. In case you were confused, the Optimus One is also known as the
Optimus T
on T-Mobile, and the
Optimus S
on Sprint. It will also be available soon on Verizon as the
LG Vortex
.
While the 1 million unit achievement might make
Steve Jobs
chuckle, it represents a win for LG's smartphone division. The Optimus One is a more beginner-friendly Android device than many others, in both its function and its price. It offers all the functionality of Android 2.2, but generally costs about US$30 or less on contract.
"
The versatile, powerful LG Optimus One was designed to provide an easy transition into the world of smartphones and as these numbers demonstrate, there is obviously a strong demand for this type of device," said LG's President/CEO, Dr. Jong-seok Park. They go on to say that the Optimus One demonstrates that Android handsets aren't just for early adopters any more.

The Optimus One (et al) is a rock-solid device, with Android 2.2, a 3.2MP camera, GPS, Wi-Fi, and a long-lasting 1500mAh battery. While its sales certainly aren't record-breaking within the Android family, it is a welcome success to LG, which has been suffering from a sharp dive in handset sales.

source:
AndroidCentral
Recommended Stories