LG Optimus G with its Snapdragon S4 CPU brings one dandy "Living Without Boundaries" experience
46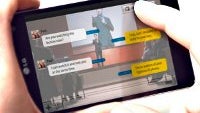 And just like that folks, the
LG Optimus G is all official
and gunning to becoming a force to be reckoned with in the smartphone landscape. To date, this is probably the biggest and most exciting device to ever come out from the Korean maker – especially when it's packing one beauty in the form of a
1.5GHz quad-core Qualcomm Snapdragon S4 processor
. Even better, it's combined with speedy
4G LTE connectivity
to complement its premier status.
From the looks of it all, the LG Optimus G means business, as it's packing a drool worthy specs sheet that'll satisfy those deepest of urges. Specifically, the listing includes a 4.7" WXGA (1280 x 768) True HD IPS display, 2GB of RAM, 32GB of storage, 13-megapixel rear camera, 1.3-megapixel front facing snapper, Bluetooth 4.0, aGPS, Wi-Fi, DLNA, and NFC. Needless to say, it's packed to the roof with enough hardware to keep it in good light with many of the other highly anticipated smartphones announced recently – like the
Nokia Lumia 920
and
Motorola DROID RAZR MAXX HD
.
However, the hardware is only half the equation to this smartphone, seeing that LG brings some revolutionary enhancements to its custom Android experience. No doubt, the bar was set with things like HTC's Sense and Samsung's TouchWiz Nature UX, but with LG's enhanced
UX features
, it's mentioned to offer a user experience for "
Living Without Boundaries
." For starters, LG goes beyond multi-tasking by offering something called "
cross-tasking
," which enables the handset to perform complex tasks simultaneously. Here's what you can expect to scope with the new "cross-tasking" functionality:
QSlide Function shows two different screens simultaneously on one display. As it doesn't just show a part of the screen but the entire screen of both functions, the user can complete two tasks concurrently – such as sending a text message or searching the web while watching a video.
Live Zooming enhances the video-watching experience as users can zoom in up to five times while the video is being streamed for a close-up of one's child while watching a recorded video from a school recital.
Dual Screen Dual Play not only allows mirroring between the smartphone and a TV, it also has the ability to display different content on each screen wirelessly. For example, a slide presentation can be displayed on the TV while the Optimus G shows the accompanying speaking notes.
QuickMemo allows users to write, draw, or jot a memo with their finger directly on the captured screen for sharing instantly with others as an attachment or a URL. The QuickMemo can also be used as an overlay feature - like jotting down a number using the QuickMemo and directly dialing the number while the number is on the top layer.
Screen Zooming allows for the zooming in and out of lists in music player, email, text messages and photo gallery. It also offers the ability to change the font size and screen layout.
Application Link launches preset applications (email, calendar, weather, etc.) when the alarm is turned off – making preparation time in the morning go a little faster with all the information on your screen
Icon Personalizer allows users the ability to customize icons by editing size and adding images so the most frequently used apps can be most easily accessible.
Even though it's going to be running
Android 4.0 Ice Cream Sandwich
underneath it all, the fancy and UX features it's bringing to the table is looking to ease the pain – especially when that S4 processor is soundly adept in handling most operations. Meanwhile, its
2,100 mAh battery
is expected to offer some decent juice out of a full charge. In fact, it's rated to offer 15 hours of talk time and 335 hours of standby. Naturally, we're thrilled by its impressive hardware, but the fun doesn't stop there, as it's also sporting one delicate unibody design. Specifically, everything is encased in a body that features
LG's patented Crystal Reflection finish
, which essentially gives a cool illusion with various patterns at different viewing angles.
As much as we're excited to check it out in action, LG has yet to release any specific information regarding its release date and pricing. However, we're certain we'll be hearing more about that very soon.
source: LG