LG Optimus G launches in South Korea next week and in October elsewhere
5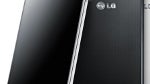 Has such an eagerly awaited device like the
LG Optimus G
transformed from a mere wisp of water cooler gossip to a
real legitimate model ready to be launched
in so quick a time? It all started in early August with speculation about
a high end model coming to Sprint and AT&T
called the
LG Eclipse 4G LTE
. This phone was expected to launch in October and compete with other top-shelf models like the
Samsung Galaxy S III
and the
Apple iPhone 5
. The device was said to be equipped with a 4.67 inch screen with 720p resolution. Under the hood one would supposedly find the quad-core 1.5GHz Qualcomm Sanspdragon S4 pro APQ8064with the Adreno 320 crunching graphics. 2GB of RAM and a 13MP rear shooter were some of the other high end specs.

The LG Optimus G is launching in South Korea next week
A week and a half later, we were introduced to the LG Optimus G via a leak of the phone's specs. Outside of a slightly larger screen, the specs matched up with the LG Eclipse 4G LTE. After pictures
claiming to be a prototype of the LG Optimus G
leaked, LG t
alked about how many of the phone's new features were developed in-house
. While more of the information about the phone was coming directly from LG, there were still rumors flowing such as the one that had the
LG Optimus G coming to Verizon as the LG Optimus Blaze
. We've also seen a
series of promos from LG about the device
, and
its first ad
.
Now we have the official word from LG that the phone
will launch in South Korea next week and globally sometime in October
. There are still many unanswered questions about where this model will end up and we know that those in the states are keeping their fingers crossed.
source: LG