LG Optimus Blaze to be Verizon's model of the LG Optimus G?
35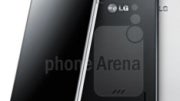 UPDATE 9/11/12
We've received word from another Verizon insider that they have also been told about this LG Optimus Blaze, and that it would come with
2GB of RAM
, along with the specs that were leaked below....
The upcoming
LG Optimus G
is expected to be one of the first smartphones to use Qualcomm's new Snapdragon S4 Pro processor. One of the main advantages of the
Snapdragon S4 Pro
(besides it being quad-core) is that it comes with the updated Adreno 320 GPU for even better graphics and uses 28nm die for lower power consumption.
We've now received word from an insider at Verizon stating at a recent manager's meeting, it was mentioned that there would be an
LG Optimus Blaze
, based on the LG Optimus G. We're told the LG Optimus Blaze would use the
Snapdragon S4 Pro with a clock speed of 1.7 GHz
, though it is not mentioned if it would be the quad-core or dual-core version. The high-end smartphone will also feature a 4.7" Super IPS+ display with a resolution of 768x1280 pixels, and a sport a
13MP autofocus camera
on the rear.
It is also expect that the LG Optimus Blaze would be the first device certified to run on the (unannounced)
Verizon 4G LTE+ network
(also known as LTE Advanced). The benefit of LTE+ is added security, faster data transmissions, as well as higher quality voice with VoLTE. Supposedly, Verizon will be "upgrading" its current LTE network to LTE+ starting next year - though no time frame is given on how long this may take.
Lastly, the person says that the
LG Optimus Blaze
is expected to have a pre-order date near the end of October with a release on November 16th, just inn time for the holiday season. Pricing was said to be $299 with a 2-year contract for the black or white model, but there will also be a "special edition" version with brushed metal.
At this point, we can only
hope
this will happen, as there is also the
HTC 6435LVW
1080p phablet device (still unannounced), not to mention the Motorola DROID RAZR HD and RAZR MAXX HD - both of which are coming out this Fall.