LG G6 preview: the no-nonsense phone the G5 should have been
14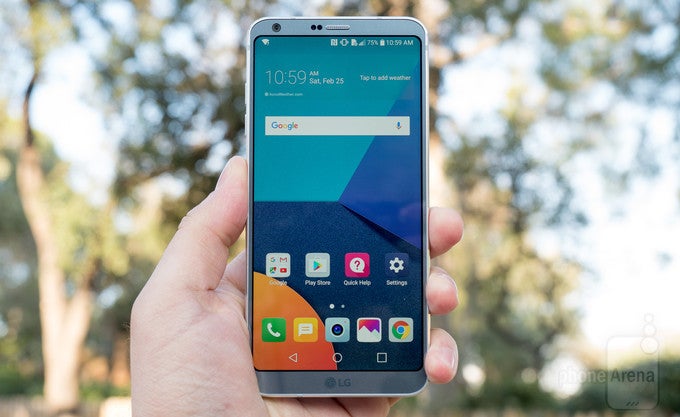 2016 wasn't the best year for LG's mobile business. While it did have some success in the premium segment with the LG V20, what should have been the company's primary revenue generator – the LG G5 – sold poorly. It wasn't a bad phone per se. Quite the contrary – we scored it highly in our review, noting strengths like its solid dual camera setup and its fluid overall performance. But in the end, perhaps its modular design – a key differentiating factor and selling point – failed to strike a chord with the general consumer.
Enter the LG G6.
LG's latest high-end phone is a product shaped by experience, feedback, and a healthy dose of market reality. It aims to be an approachable, no-nonsense device with mass appeal and practical design. True, some sacrifices have been made along the way, but the trade-offs may have been worth it. Allow me to elaborate.
Design: less modular, more reliable
LG's foray into modular design didn't pay off, which is probably why the LG G6 skips on modules entirely. The only things you'll be plugging in or out are the wired headphones or a USB Type-C cable. You may have noticed that I didn't mention the battery here, and that's because on the G6, the 3300mAh cell is not user replaceable. There's a couple of very good reasons for this. First of all, switching to a non-removable battery has allowed LG to use a cell of greater energy density – one holding more charge per unit of volume. Better yet, the LG G6 is now water resistant, carrying an IP68 rating – the highest smartphones have achieved so far.
Speaking of ruggedness, the LG G6 is designed to withstand abuse. It isn't bullet-proof, of course, and that Gorilla Glass 5 back will surely shatter if subjected to enough force, but LG has put effort in minimizing the risk of the G6 breaking when dropped, sat on, or in any way handled without the care it deserves. In fact, LG is so confident in its new phone that it let us take a look inside its product testing laboratory, where we saw the G6 being mistreated in all kinds of ways. I witnessed multiple units tumbling in chambers without cracking or sustaining critical damage. Then I saw a metal nail puncturing the battery without that causing fire or smoke. Honestly, I was impressed.
The level of toughness the LG G6 is built to meet is anything but evident from its glass and metal construction. At the end of the day, it is still an okay-looking handset, but I'm afraid some may write it off as too ordinary, as lacking any design cues that draw the attention. Yet it does stand out with things like ultra-slim bezels, high screen-to-body ratio (around 80%), and the fact that the display's curved corners complement the handset's shape. And if you think that this phone doesn't possess enough of that special sauce that makes it an LG, be aware that quirks like the power key positioned on the back are still present.
Display: larger size, smaller phone
But the so-called FullVision is the primary factor setting the LG G6 apart from the crowd. The screen's shape, to be more exact – unlike most other smartphones, it is of the unusual aspect ratio of 18:9, meaning that it is slightly taller/narrower than traditional 16:9 displays. As a result, the handset itself is narrower than competitors with similar screen sizes, which should allow for more convenient single-hand use and side-by-side multitasking. While the difference in handling is subtle, it is there, and even if you do not notice it at first, you surely will once you go back to a phone with a display of traditional proportions.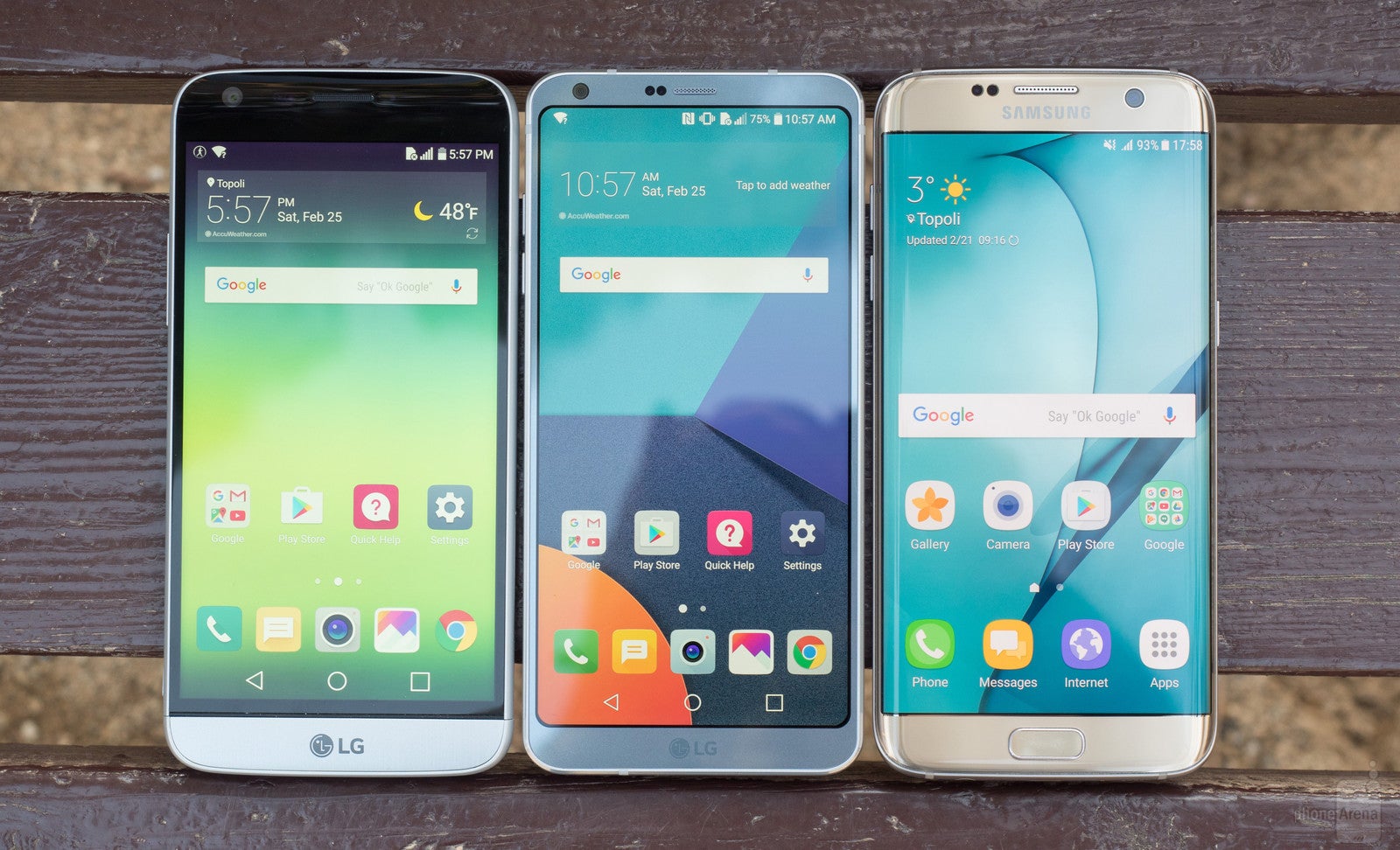 From left to right - the LG G5, the LG G6, and the Galaxy S7 edge
The screen itself is of the LCD variety and has the biggest diagonal size of any G-series phone so far – 5.7 inches. The pixel density is typical for a contemporary flagship (2880x1440 pixels, 564 ppi), meaning that graphics look nice and sharp. LG also boasts that it has improved the brightness of the panel compared to the G5. Under normal conditions, the display can reach 500 nits of brightness, and up to 600 nits can be achieved under bright sunlight. Outdoor visibility shouldn't be an issue given these figures, and it wasn't as I took a stroll down La Rambla here in Barcelona.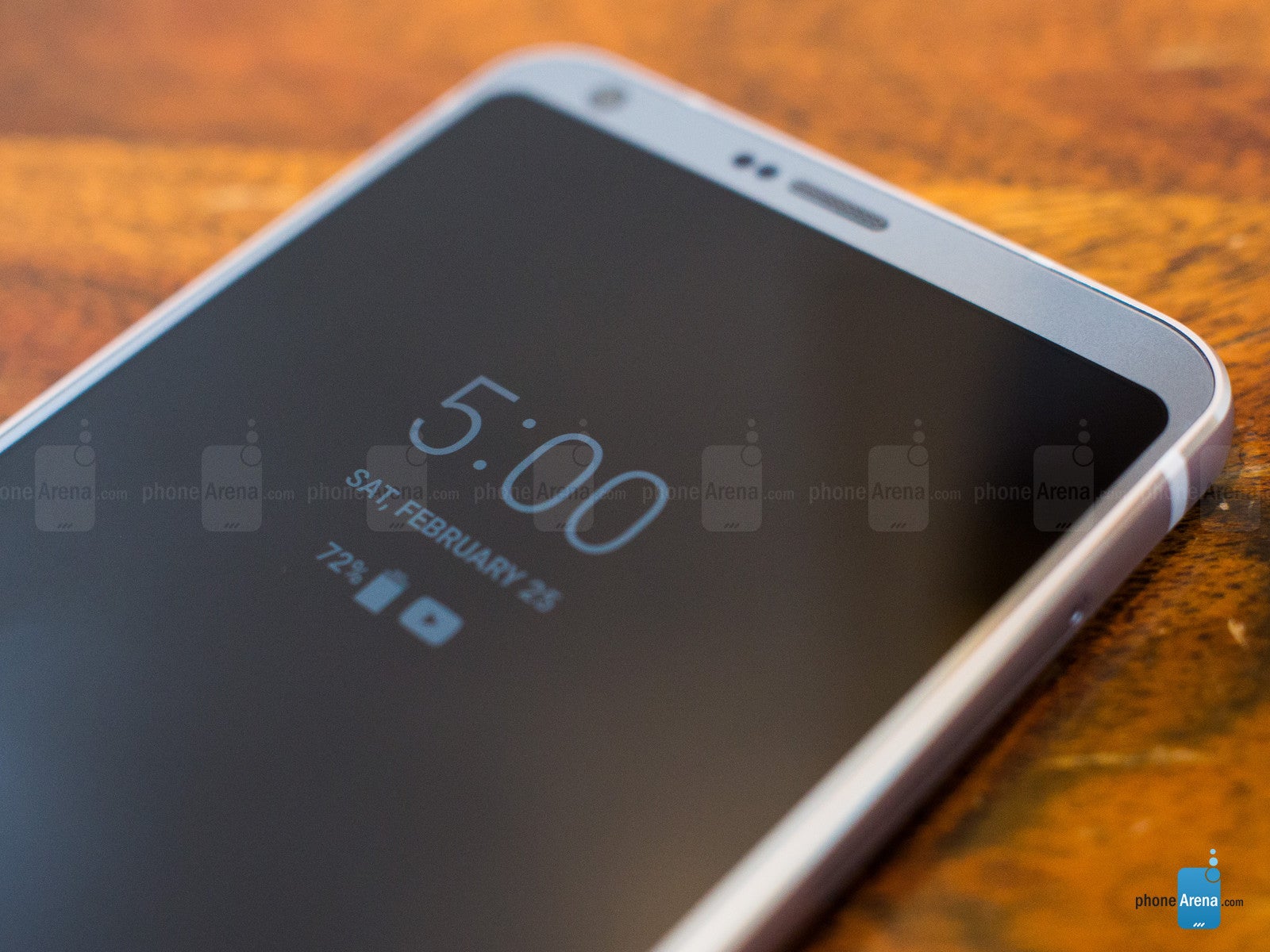 One thing that does leave room for improvement is the always-on display feature. On the G5, content shown during stand-by was too dim to be visible comfortably from an angle, and the same applies here with the G6. At least now there's the option to increase the brightness level of the always-on display, but that comes with a warning that battery life may suffer noticeably.
Interface: updated UI fits the new proportions
There's Android 7.0 Nougat running on the G6, with LG's custom skin designed to utilize the screen's proportions to its advantage. Some stock apps switch to a split layout if you hold the phone horizontally: the email client, for example, shows your inbox on the left and the contents of the selected email on the right. Meanwhile, apps like Weather and Contacts now fit more content into the extra vertical space that they're given. And during split-screen multitasking, apps have more space to run in. Strange why LG chose not to fit an extra row of icons on the home screen to utilize the extra room.
Does this boost my productivity in any way? That's not a question I can answer at this time, but I should be answer to do so once I've spent a sufficient amount of time in the G6's company. Still, it is nice to see that effort is put in making software and hardware work in unison.
On the topic of software, I was curious to see whether third-party apps would get along well with the 18:9 screen proportions, and the situation appears to be pretty stable. All of the apps I've tried adapt to the screen's unorthodox aspect ratio without issues. Games, however, do require some involvement on the user's side. When one is launched, you have the option to choose the aspect ratio for it to run in. Some games do run fine by default, while with others you have to experiment until you find the setting that works best. It's a hassle, but at least it's something you have to do only once for every game that you install.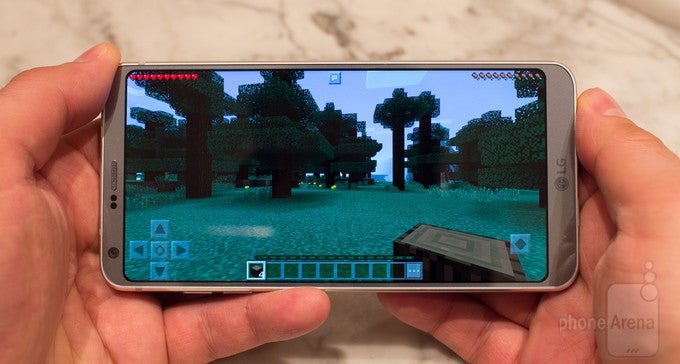 Minecraft runs fine in the LG G6's native 18 by 9 display aspect ratio
One thing making the G6 special is that it the first non-Pixel phone to come with Google's Assistant built in. For those not familiar, that is a voice-controlled feature accessible from any screen with a long press of the home button. Think of it as an evolution of Google Now, but with a friendlier, more natural flow of interaction. Whether you feel comfortable having a conversation with your phone is a whole different story.