LG G5 Friends bring their accessory action to the US
3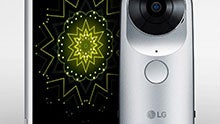 With this year's flagship G5, LG positioned its latest smartphone not just as the top-of-the-line handset that it wants users keeping in their pockets all year, but as the center of
a new ecosystem of accessories
– or "companion devices," as LG likes to call them – the LG Friends. Consisting both of add-ons that connected to the G5 itself, as well as wholly external gadgets, the lineup promises to enhance the G5 user experience in myriad ways, from delivering an improved camera-control package to introducing a portal into virtual worlds.
But while the idea of this constellation of G5 extras sounded nice enough,
early questions about availability managed to put a damper on things
; would some G5 owners not be able to tap into the same lineup of Friends as users in other markets? We're still waiting on some of those answers, but today we're making headway in the US, as LG formally launches its LG G5 Friends.
LG G5 users in the US can pick up the LG CAM Plus G5 add-on, LG 360 CAM panoramic camera, LG 360 VR goggles, and LG TONE Platinum Bluetooth headset. Beyond carrier and retailer availability, LG's also running direct sales through its website.
OK, that's great and all, but what about the Hi-Fi Plus, especially after last month LG was talking about the G5 add-on being "not yet confirmed for the US?"
LG still isn't ready to confirm anything, but the company does note that additional LG Friends accessories are coming over the course of the next few weeks and months. That's definitely going to include some of the first third-party options, but we're also holding out hope that the Hi-Fi Plus could eventually be among them.
In addition to all this G5 Friends stuff, LG also reminds its users that it's got
plenty of accessories for its older phones to sell
(mainly of the spare battery and external charger variety), and it's looking to hook shoppers up with come combo-deal savings.
source:
LG