The LG V10 now comes with a free 64GB microSD card, spare battery, and charging cradle
14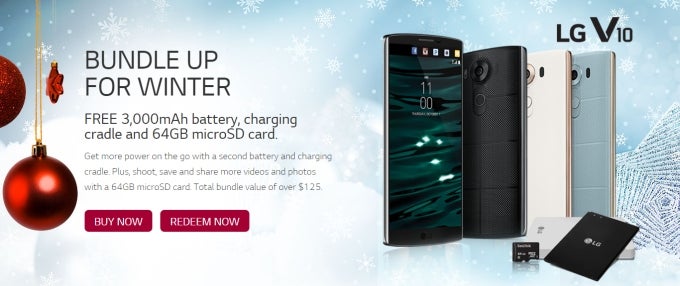 If you were thinking about purchasing the
LG V10
in the upcoming weeks but were waiting for an extra incentive, then LG's latest promotion might catch your eye. The manufacturer is offering a 64GB microSD card, a spare battery, and a charging cradle for the battery with new LG V10 purchases. Separately, these accessories would set you back $125.
To qualify for the free items, you'll need to purchase an LG V10 from Verizon, AT&T, or T-Mobile by December 20. Once you get the device, head on over to the source link below, fill a form and send a copy of the receipt, and LG will send you the goods.
LG is not a stranger to such promotions. Both of the company's recent high-end phones - the LG G4 and the LG V10 - come with a removable battery and microSD card compatibility, and LG's promotions have offered accessories that build upon these advantages. The LG G4 was repeatedly offered in a similar bundle earlier this year, while the LG V10 was initially offered with a free 200GB microSD card.
When we reviewed the LG V10, we found that the phone features excellent system performance, great still image quality, and super-quick charging, while the secondary display is perfect for boosting productivity. On the downside, the LG V10 also has a few cons, such as inaccurate display colors, a cluttered UI, modest battery life, and subpar video recording capabilities. For a much more detailed analysis of the device, head on over to our
LG V10 review
.

What do you guys think of LG's latest promotion? Are the free microSD card, spare battery, and charging cradle enough to justify purchasing the LG V10?