LG G4 vs. LG G3: what to expect
29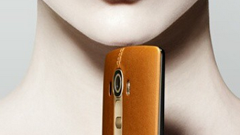 Launched in June last year, the
LG G3
was the world's first widely available handset to sport a Quad HD (1440 x 2560 pixels) display, as well as the first to feature a rear camera with laser auto focus. The smartphone proved itself to be a worthy successor to the
LG G2
from 2013, being sold in about 10 million units. This year, LG is (obviously) releasing a successor to the G3, which will be officially marketed as the
LG G4
.
LG certainly has high expectations when it comes to the G4. The company says that the new flagship will allow customers to "see the great" and "feel the great", hoping that everyone will consider it to be one of this year's hottest smartphones. While it's too early to say if that'll be the case, we can certainly take a look at how the G4 will stack up against the G3. We can do this because LG has already provided
a lot of info about the G4
(though, of course, there are still important details that haven't been unveiled). Without further ado, let's dive in:
In case you want to see more images showing the G4 (revealed intentionally or not by LG), check out the slideshow below:
What do you think, can the LG G4 be much better than the G3? Let us know in the comments section!