LG G2 first battery test results surface
17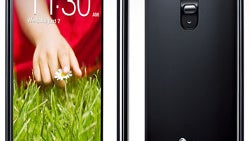 The LG G2 has definitely
captured phone aficionados attention
- it sports a nearly bezelless 5.2" full HD display, powerful Snapdragon 800 chip, a 13-megapixel OIS camera and the unique volume rocker on its back. How does it fare in terms of battery life, though? With a 2610mAh stacked battery that allows the device to be very thin, can it also be long-lasting?
First battery tests show that the device does great in some battery benchmarks and not so good in others. Which ones? When 3D apps and games kick in the load from the 5.2" full HD displays hits the battery hard and the handset lasts way below your average premium smartphone.
Results from the battery test are right below and it includes cream of the crop devices like the Samsung Galaxy S4 and the Apple iPhone 5.
Test results are presented at 100% brightness and at a lower brightness level, measured at around 230 nits, good for indoor use.
You'd notice that in certain use cases like the browser, the LG G2 performs great thanks to use of Graphic RAM, or GRAM, a graphic memory cache. If you browse the web long, the G2 will definitely not disappoint. In video playback it also has an above average score, but its 3D apps that drain it really quickly. Take a look at the results below.
source:
GForGames