LG G Flex 2 vs Samsung Galaxy S5: first look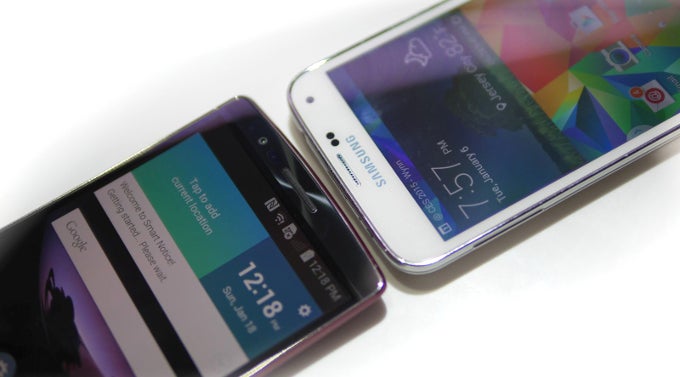 LG has finally
announced
the successor of its radical
G Flex
– a smartphone, which wowed techies not only with its curved design, but also flexibility and self-healing properties of its back cover. While these features were undeniably cool, LG was still battling some technological limitations, which led to the original G Flex lacking in a few aspects, which solidified its place as an early adopter device, instead of a mainstream driver. Now, the
G Flex 2
builds on its predecessor with a more compact body, a much sharper, albeit smaller, display, 64-bit capable CPU, and 3 GB of RAM (on the 32 GB model, 2 GB RAM for the 16 GB variant). How does it look, when compared to the competition? Let's take a glimpse – in this article, we will make a quick hands-on comparison between the LG G Flex 2 and Samsung's potent all-rounder – the
Galaxy S5
.
Design
The G Flex 2 houses a larger, 5.5" display, which results in it having a bigger body than the Galaxy S5 and its
5.1
" screen. Yet, thanks to the pre-bent
The curve of the G Flex 2 adds a level of comfortability when held, and LG's signature power and volume button placement on the back of the device is also present here, giving us good accessibility to said controls via our index finger. With the Galaxy S5, Samsung didn't look to wow us with anything off-the-charts unique – the
If we were to say which device instantly grabs our attention with its looks – it is hands down the G Flex 2.
Display





The two displays are protected by Gorilla Glass 3, though, LG says it has added some of its own sugar and spice to the G Flex 2's panels, resulting in a 20% tougher, yet still flexible, protective film.
Interface
Sammy's TouchWiz interface, which adorns every Galaxy smartphone, is brim-packed with features as well, and – even though Samsung constantly tries to battle this – carries a bad fame for often presenting random hiccups for no apparent reason, no matter the hardware it has been stuck to.
In terms of functionality – the TouchWiz, no small thanks to Samsung's "hit-or-miss" tactic of throwing in whatever comes to mind and seeing what sticks, does have some cool features, such as Smart Stay, Multi Window, gesture commands for waking up or silencing the device, one-handed mode, etc.
LG has a Multi Window of its own (dubbed Dual Window), offers tap-to-wake functionality and a knock code lock screen feature, allows the user to customize the software navigation key strip – by either reordering it, adding, or removing functions – all in all, while LG's UI is a bit lighter on features, when compared to TouchWiz, it still has quite a bit of them.
Now, thanks to the fact that the G Flex 2 sports Qualcomm's latest flagship-class SoC – the 64-bit, octa-core Snapdragon 810 – it does blast through its menus faster and smoother, whereas the S5, while not annoyingly so, tends to show us the occasional stutter.
Processor and memory
As we just mentioned, the LG G Flex 2 is the first announced flagship-class smartphone to bear Qualcomm's latest and greatest chipset – the Snapdragon 810. Loaded with four ARM Cortex-A57 and four ARM Cortex-
A53
cores, the Adreno 430 GPU, being 64-bit capable, and coupled with the hefty 3 GB of RAM (on the 32 GB model) – the SoC will surely allow LG's banana-like handset to blast through anything you throw at it, as well as keep it in the race for the long run, as smartphones are just now entering their own 64-bit era.
In comparison, the Galaxy S5 rocks the slightly outdated Snapdragon 801, which is loaded with four Qualcomm-propriatery Krait 400 cores, clocked at 2.5 GHz, the Adreno 330 GPU, and coupled with 2 GB of RAM. Indeed, while stuck to the 32-bit architecture, the S5 still has a lot of life left, before you could call it obsolete, and let's be honest – the hardware may be making the jump to 64-bit right now, but app developers will surely lag behind as long as they can, because they, naturally, need to optimize sales.
So, while people who generally wish to stay on the bleeding
edge
of technology will look to ditch the S5 as soon as possible, maybe for the G Flex 2 due to its many unique tech feats, the Galaxy S5 can still be a potent daily driver for the casual folk.
Camera
LG G3
and if we were to trust our intuition, based on what we've seen from the aforementioned flagship, we'd expect the G Flex 2 to offer some high-quality capturing capabilities.
The Galaxy S5's camera can hold it's own as well – sporting a 16 MP sensor and incorporating Samsung's ISOCELL technology – the snapper is among the best to be found on a smartphone. Sammy also employs a fast auto focus tech, though, instead of using laser, Samsung uses phase detection technique, which, in our extensive tests, showed itself to be ever so slightly faster than LG's laser-assisted system.
So, both snappers are pretty equal opponents, though, the G Flex 2 has the upper hand due to its OIS capabilities. Of course, we'd get a much clearer picture once we've had more time with both devices on hand for some elaborate camera shootouts.
Expectations
The LG G Flex 2 solves the low PPI issue that tainted its predecessor's screen, is more compact, while retaining the curved / flexible properties, and looks even cooler, with its new, fresh finishes. It's more than just a pretty face, though, as it sports the most recent, top-shelf SoC that industry leader Qualcomm is offering, a generous amount of RAM, and a good camera. The handset will definitely have the hardware to survive the 2015 flagship onslaught, and the looks to attract the ones who seek unique, yet comfortable designs. To top it off, the cool self-healing backplate definitely adds to the geek-cred and rounds it off as a techies' dream device.
The Galaxy S5, on the other hand, is much more subtle in appearance, offers last-year's hardware and, more importantly, is stuck in the 32-bit era forever. It is still a great daily driver for casual users, but will not fare well with those, seeking the "wow" in a new handset. Of course, Sammy's next flagship – the Galaxy S6 – is just around the corner, and we've been hearing all sorts of
crazy rumors
about it – from a
radical redesign
, to a dual-launch of a standard device and a
dual-edge
screen one – so Samsung may still stay in the top-of-the-crop game this year – just not with the S5.