Samsung Galaxy S6 leaks claim 5.5-inch screen, all aluminum body, but it might not be the only flagship
99+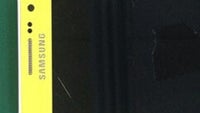 The
Galaxy S6
is expected to get officially unveiled early in 2015, however, this time around, Samsung is taking design seriously with a complete overhaul: first images of an assembled Galaxy S6 has leaked out showing an all-aluminum unibody with a colorful plastic front. These are two big changes: the aluminum body comes as a welcome change from the uninspiring plastic case of the S5, while the color on the front is also a new thing for the flagship Samsung series.
The vivid
'fluorescent yellow'
paint job on this first Galaxy S6 leaked unit shows that the company is not afraid to experiment with some bold tonalities.
Most interestingly, though, after earlier reports about Samsung still trying to decide between a 5.2" and 5.5" screen size, this one is much more conclusive: the Galaxy S6 (codenamed SM-G430) will feature a 5.5-inch display, according to it. Interestingly, other mentioned specs include a 1080p display and a Snapdragon 801 system chip, both reserved for upper-mid-range devices, but falling a bit short of flagship phone expectations.
However, we're now hearing speculation about a Galaxy Note Edge-like sibling to the Galaxy S6, a sort of a premium version of the handset, that is rumored to get a 5.3" QHD (1440 x 2560-pixel) AMOLED display, a Snapdragon 810 system chip, and 4GB of RAM. This handset might even get an iris scanner, a long-rumored feature that has not yet arrived in a mass-sold commercial smartphone.
Could Samsung restart the flagship series with such a radical new handset? Let's not forget that all those are merely early-stage rumors and they may or may not be true, so do take them with a grain of salt. Also, stay tuned, as we'll certainly be seeing more rumors and leaks in the coming weeks.