LG G Flex 2 gets a price tag, and it's not as bad as you might think
30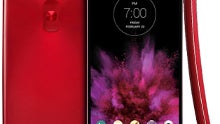 The
LG G Flex 2
got unveiled at CES 2015 as the second edition of the overarching form factor (see what we did there) that made a cameo with the original
G Flex
last year, but with a smaller, 5.5" display. The more compact size is a reflection of the company listening to feedback from users who felt the first generation device was a bit too big. Moreover, the upgrade in display resolution from HD to 1080p will certainly prove to be a welcome change, too, fixing another one of the user's issues with the G Flex pioneer.
LG introduced the world to flexible and "
self-healing
" smartphones a little over a year ago with the G Flex. The 6" OLED display with plastic, instead of glass substrate, showed us that devices do not necessarily need to be ultra-rigid in an effort prevent breakage from being dropped. A big leap forward for the product line, the G Flex 2 brings, according to LG, better everything in a more compact design.
And the price for all that jazz? Well, judging by the Amazon Germany or Italy listings, it will be in line with every other flagship release in Europe, at EUR 599, which in the US will likely translate to $600 or so - the standard fare for an off-contract flagship, and even a tad below, despite the curvy flexible display of the phone. Would you get the Flex 2 at this price without a carrier subsidy?