LA Times: Apple's problems with iOS mirror Microsoft's issues with Windows
45
L.A. Times columnist Michael Hiltzik wrote a piece that was published in Monday's paper, discussing what he believes is the "disappearing integration" between Apple's hardware and software. He also has spotted an "explosion of discontent" among iOS users in regards to the quality of the core apps found on the iPhone and iPad. This "discontent" spreads to Apple's non-mobile devices as well.
To illustrate the unusual position that iOS users find themselves in, the Times' columnist points out a comment made by former
Wall Street Journal
Tech writer and
Re/code
co-founder Walt Mossberg. It was just last week when Mossberg wrote that there has been "a gradual degradation in the quality and reliability of Apple's core apps."
Hiltzik writes that Apple could be suffering from the same problem as Microsoft is with Windows. He states that both companies are adding new functions to an "outdated core" instead of starting from scratch. Just yesterday, we told you about
a security update that Apple pushed out for iOS that fixed over 100 issues
.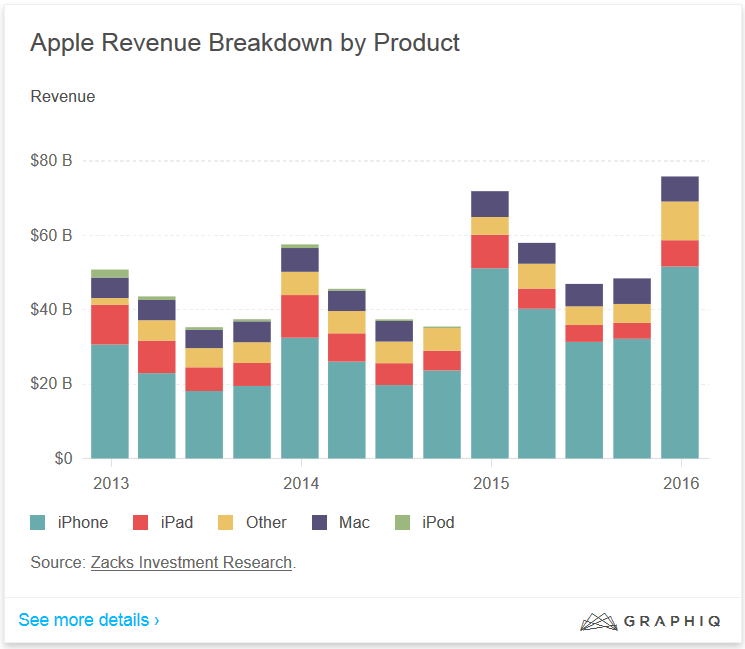 The iPhone remains the most important product in Apple's line-up
Most have placed the blame on Apple's new product release schedule, which has the company designing and manufacturing a new iPhone every year. Even "S" year models have some new features. And after all of the work that is done trying to stay one step ahead in an incredibly competitive business, Apple has to come up with new ways to market the iPhone every year.
While it was amazing that the company topped the 2014 holiday quarter's 74.5 million in iPhone sales
by ringing up a record 74.8 million in 2015's holiday season
, the current quarter is not expected to do as well. In fact, even Apple CEO Tim Cook expects the company to report its first year-over-year decline in iPhone sales in April. What happens in the next two quarters will determine where Apple goes from here.
Considering that more than 30% of iPhone users are still rocking an iPhone with a 4-inch screen
,
there is no reason to believe that the iPhone won't regain its footing in the second half of this year. And don't forget that the
Apple iPhone 7
is due to be unveiled this September. Apple is reportedly
making the iPhone 7 waterproof
, adding a dual camera system to the
Apple iPhone 7 Plus
, and will remove the 3.5mm earphone jack which could add some room for a higher capacity battery.
"Conjectures about why Apple can't get its software act together abound. The most common is that the company has become so trapped in its cycle of annual hardware upgrades -- a new iPhone had better appear every September, or else -- that it's simply incapable of keeping its software maintained."-Michael Hiltzik, L.A. Times

"The rapid decline of Apple's software is a sign that marketing is too high a priority at Apple today: having major new releases every year is clearly impossible for the engineering teams to keep up with while maintaining quality. ... They're doing too much, with unrealistic deadlines."-Marco Arment, programmer
But the issue Apple has doesn't seem to be hardware related. If Hiltzik is right, the solution for Apple is to focus a little less on hardware and focus more on taking iOS where it needs to be for the next five years or more.
source:
LATimes
via
BGR