Kyocera Proteus is an awesome shape-shifting smartphone concept
7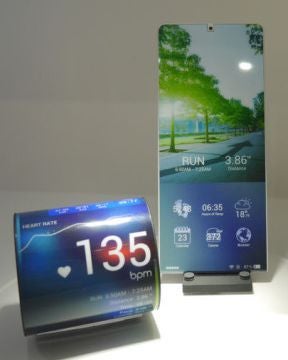 Kyocera is no stranger to the brave use of new technologies in its retail devices, like
bone-conduction
technology,
Sapphire Shield
displays, and so on. This time it is aiming to master the flexible phone concept, showcasing one at the CEATEC expo in Japan.
The contraption is named after Proteus, the shape-shifting god, and the idea goes further than just bending a side like on the
Note Edge
, or folding it in two. The Kyocera Proteus gear would be able to wrap around your wrist, like a largish smartwatch, or, more precisely, a smart bracelet of sorts, while you'd also be able to drape and clip it around other objects, like your bike's handlebars, too.
Proteus will have biometric sensors on the back, much like the
Apple Watch
, or the
LG G Watch R
, with a heartbeat monitor that will kick in when you wrap the flexible phone around your wrist. The company doesn't stop here, though - it envisions that Proteus would use a frameless OLED panel, and segmented batteries, as well as integrated keypad with shape memory, that will go back to flat when the keyboard is not in use. What do you think about Kyocera's new take on a shape-shifting smartphone?