Keys, a corckscrew, and concrete can't even scratch Kyocera's Sapphire Shield display
12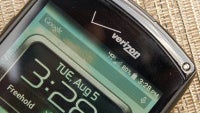 If you happen to do a Google search on just "
sapphire display
," chances are you'll get results pertaining to rumors regarding the
next-generation Apple iPhone
. Heck, there's so much buzz surround it already, which is pretty astounding. Interesting enough, however, there's another phone that currently packs along the sturdy piece of glass over its display – the
Kyocera Brigadier
.
Now, we've applauded the phone for its ruggedness, but in the back of our mind, we were a little skeptical about its Sapphire Shield display. In fact, Kyocera goes on to claim boldly that it's "
virtually scratchproof
", so we decided to challenge that claim with our very own scratch test. And boy did we try out darndest to try and mess up its clean looks!
As you can guess, we put the display through a ton of cringe worthy procedures – some simple, some extensive. From a quick test to see how it handles the butt end of a key, to being dropped, we're astounded by how resilient the sapphire shield glass really is on the Kyocera Brigadier. Heck, it pretty much makes us forget about that thing called Gorilla Glass. Just don't forget to check out the video and see how the sapphire shield display is able to endure some serious punishment!