Kyocera Echo (Echo...Echo...Echo) to launch April 17th on Sprint for $199
12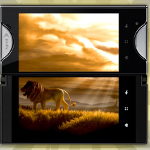 When Sprint introduced the Kyocera Echo last month, the Android 2.2 device had the bad luck of being displayed to cell phone fans who were looking for something a lot more high end from Sprint than a dual-screen handset. Now the nation's third largest carrier will launch the device on April 17th for $199 with a 2 year signed contract and a Sprint smartphone plan.
The Echo's dual 3.5 inch screens come together to form one 4.7 inch display. One of the interesting things about the device is that two separate apps can be handled by each screen or select apps can be downloaded that would call for the two screens to work together. For example, using a mapping program with the dual screens could allow the user to track his progress on one screen while displaying real time weather or traffic on the other screen. Or a movie could be streamed to one screen while the other shows the exact script with dialogue or information about the stars in the picture.
Pre-orders for the Kyocera Echo will be taken by Sprint starting March 26th. You can reserve your unit by clicking on this
link
.
source:
Sprint
via
Engadget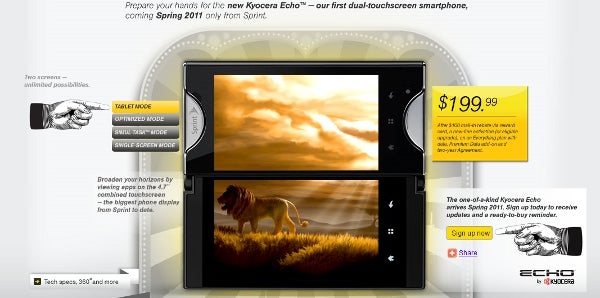 The dual-screen Kyocera Echo is heading for an April 17th launch on Sprint for $199