Kogan shows off sub $200 10-inch ICS tablet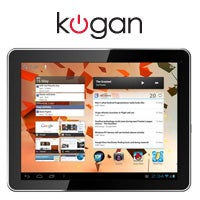 When it comes to budget tablets, many of them can be quite lackluster when it comes to features. Kogan is looking to raise the bar a bit with its new Agora tablet.
The Australian manufacturer traditionally makes budget portables such as netbooks and tablets running Linux and Android. It is now taking a swing at the tablet game.
The Kogan Agora tablet is an Android 4.0 Ice Cream Sandwich powered tablet that has a 10-inch display with a 1024 x 768 resolution. It runs on a 1.2GHz Cortex A8 processor, 1GB RAM, choice of 8GB or 16GB onboard storage, microSD expansion slot, a 2-megapixel rear camera, USB 2.0, and HDMI out.
The Agora is scheduled to be available (for real this time) in Australia on June 25. The 16GB model will cost $176 AUD, which is about $176 US, and the 32GB model will run $199. At first glance, it packs a nice set of specs for the under $200 category. It will be interesting to see how it performs in the real world.