Kindle Fire HD 7" receives first software update on launch day
3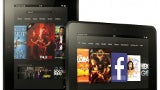 So, Amazon has just released its new 7-inch Kindle Fire HD and... oh my God, here's the first update! OK, this update probably isn't worth such an excitement, because it isn't even known exactly what it fixes, but Amazon's support page does say that it should "optimize its performance and functionality". Now, this could mean two things: either Amazon shows us that it'll do a great job with supporting its new tablets, or there's been some serious problem which needed immediate attention...
Either way, the new update is here and it brings the device's software version number to 7.1.5. If your device's Software Version field says anything else, it's highly advised that you head to Amazon's and grab the new software right away.
You'll find all you need to know about the update, as well as the update itself,
here
.
Has any of you guys already purchased an Amazon Kindle HD? If not, do you plan to do so?
via:
TheAndroidSoul