Julie Larson-Green gets new job at Microsoft so that Stephen Elop can slide right into her old one
13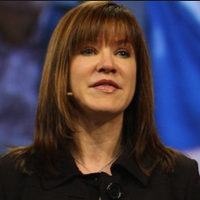 With Stephen Elop on his way back to Microsoft to be executive vice president of devices, the person with that exact title on her business card is moving to a new position. Julie Larson-Green will become chief experience officer for products at Microsoft, with those products including Skype, Bing and Office to name a few. Her new boss is Qi Lu, the executive vice president who leads the Applications and Services group at Microsoft.
The move by Larson-Green isn't the only reason to expect the Microsoft-Nokia deal to close soon. The Finnish based company has started reporting financial results for Devices and Services separately from the rest of the company. And the HERE team, which is not part of the deal, has already moved to a different campus along with its Chief Technical Officer. The $7.2 billion deal (sounds like small chump change compared to the $19 billion Facebook acquisition of WhatsApp) is expected to close this quarter.
Meanwhile, Larson-Green sent out an internal email inside Microsoft which does make some reference to other emails from new Microsoft CEO Satya Nadella and Qi Lui. You can read her email below.
From: Julie Larson-Green
Sent: Monday, February 24, 2014
Subject: FW: ASG Organizational Announcement

Team,

As you will read in the notes below from Qi and Satya, I've accepted a new challenge, leading the My Life & Work team in ASG and serving as the Chief Experience Officer (CXO). As hard as it is for me to leave Devices & Studios, I'm thrilled about this opportunity. In working with company leaders this year to establish our One Microsoft vision and plan, I thought about ways I could have impact on helping Microsoft prepare for the future and innovate. My discussions with Satya and Qi made clear this is a critical space to drive new thinking and an essential way to help the shape the company's direction. I'm looking forward to developing the Digital Life & Digital Work Experience Substrate that powers modern digital experiences regardless of device, as well as working across ASG to strengthen customer experiences.

I want to thank each and every one of you for welcoming me and supporting me as the leader of Devices & Studios over the past 7 months. I'm very proud of what we have accomplished during such a short timeframe. We launched Xbox One, Surface 2 & Pro 2, blockbuster games like Forza and Ryse, a brand new Xbox Music and Video service, PPI, and some amazing unannounced innovations just to name a few – incredibly impressive!

Our opportunity to grow as a world-class devices and experiences company is greater than ever, and I have every belief that as One Microsoft we're on the right path. The addition of Nokia Devices & Services into the DnS family will add tremendous scale, talent and opportunity for our future.

I'll remain in role leading the DnS organization in the interim until the Nokia deal closes and Stephen Elop makes his transition to Microsoft. We've been meeting regularly throughout and are making a lot of progress, ensuring our teams are ready for the Day 1 close and beyond.

You are all in great hands with Stephen and already we've shared a lot with him and his LT from Nokia regarding all of the fantastic people, teams and products in DnS. I also know many of you are looking forward to welcoming the Nokia team and working more closely with them.

As I look to the future, I'm reminded of a favorite Chinese proverb: "To get through the hardest journey we need take only one step at a time, but we must keep on stepping."

I encourage you all to stay focused on the journey and opportunities ahead, and know that I'll be there in step with you as we launch the next chapter of Microsoft.

Thank you,

Julie
source:
GeekWire
via
WMPoweruser
,
MicrosoftNews