Judge in U.K. says HTC doesn't infringe on Apple patents, calls three Apple patents invalid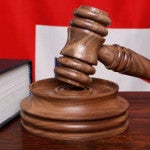 "(The ruling) marks a considerable defeat for Apple in the smartphone patent wars. Two of Apple's prize patents have been knocked out in the U.K."-Peter Bell,attorney at Stevens & Bolton LLP, who isn't involved in the case
The patent wars that have taken over the courtrooms all over the world are becoming more and more confusing. What is a patent violation in the States might not be on on the other side of the Atlantic. In the U.K. on Wednesday, Judge Christopher Floyd ruled that
HTC did not violate 4 Apple patents
including the slide-to-unlock patent. But this ruling by Judge Floyd goes even deeper as his ruling says that three of the patents (including 'slide-to-unlock') are not valid. The only one of the patents that the U.K. court says was valid dealt with scrolling on the photo management app and HTC didn't even infringe on that, according to the judge.
We remain disappointed that Apple continues to favor competition in the courtroom over competition in the marketplace
," while Apple's emailed statement said that, "
Competition is healthy, but competitors should create their own original technology, not steal ours
."
Besides the slide-to-unlock, and scrolling through photographs patents, the case involved a patent related to changing alphabets and another involving multi-touch functionality on the touchscreen. The same four patents are the subject of an HTC-Apple case
to be heard in a German court later this year
. Last week, the ITC ruled that
HTC can still ship its latest models to the U.S.
while the Agency investigates claims made by Apple that the Taiwan based manufacturer infringed on a patent that allows phone owners to search for phone numbers in an email.
source:
Bloomberg